The 5th Annual Le French GourMay Food & Wine Festival
A fantastic journey to Bourgogne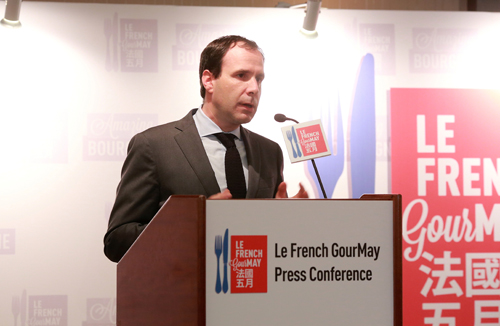 For the fifth consecutive year, Le French GourMay will offer the people of Hong Kong and Macau one whole month to discover the best of French wines and gastronomy. By providing dedicated menus to match with French wines, wine tastings, promotions and workshops, Hong Kong and Macau restaurants, Michelin-starred chefs, as well as wine importers and distributors will dedicate the entire month of May to celebrate this festival.
Annually, Le French GourMay honors wines from different regions of France. This year, Bourgogne wines will be the focus. Bourgogne wines, whether they are red or white, are distinguishable by the extraordinary delicacy and elegance of their aromas, highlighting the subtlety rather than the power. The remarkable balance, freshness and excellent body of Bourgogne wines make them pleasant wines that are a joy to share.
The Consul General of France in Hong Kong and Macau, Arnaud Barthelemy, delivered an opening speech at the Le French GourMay press conference held at the Grand Hyatt Hotel.
Afterwards, Simon Tam, Head of Wine of Christie's, held a talk on Bourgogne wines in Hong Kong market.
For further information please visit: http://www.facebook.com/lefrenchgourmay
The official partner of Le French GourMay in 2013:  Bourgogne
The Terroir, in Bourgogne, is the basis of the Appellation d'Origine Contrôlée (A.O.C).
Bourgogne has nearly 28,500 hectares of vines in production, 100 classified Appellation d'Origine Contrôlée (A.O.C) and a volume of about 200 million bottles marketed.
The Bourgogne vineyard covers 5 great flagship regions of production. From north to south: Chablis and the Grand Auxerrois, the Côte de Nuits, the Côte de Beaune, the Côte Chalonnaise and finally the Mâconnais.
In Bourgogne, terroir is a broad concept which includes both natural and human factors. It was wine growers, sometimes aided by the work of monks, who discovered, identified and then developed the Terroirs. Centuries of hard work were necessary for this concept, whose origin goes back to the early Middle Ages, to be passed down to us and be officially recognized and described in the middle of the last century with the creation of the I.N.A.O. and appellations of origin.
In Bourgogne, the geological origin and the physical and chemical composition of the soils are highly diversified and vary from one vineyard to another, but also within the same vineyard and the same village. This explains why the Bourgogne vineyard is like an immense mosaic made up of thousands of plots of land (called 'Climat'), often very small indeed (Romanée is the smallest appellation in the world with 0.8 hectare).
In Bourgogne, there are more white wines than red wines. Chardonnay and Pinot Noir are the two predominating grape varieties. Aligoté and Gamay are also part of the main grape varieties grown in Bourgogne. The region is where these grape varieties were originally developed. Clay and limestone soils, commonly found in Bourgogne, enable these grape varieties to express themselves in authentic and one-of-a-kind ways. Chardonnay and Pinot Noir grapes grown in Bourgogne provide unique mineral qualities.
The promotional activities of Le French GourMay 2013 in several different ways:
The "Bourgogne" menu at Michelin-starred restaurants:
Throughout Le French GourMay, Michelin-starred restaurants such as Amber, Caprice, Restaurant Petrus, Pierre, l'Atelier de Joël Robuchon, Spoon by Alain Ducasse and Tate will join the festival to create gastronomic feasts with the theme of Bourgogne. From May 1st to 31st 2013, these prestigious restaurants will offer a special French GourMay menu. To further complement this unique culinary experience, the menus are specifically paired with Bourgogne wines.
Promotion in restaurants and bars:
Besides the restaurants mentioned above, more than 30 other restaurants/bars will also participate in Le French GourMay:
Fine dining: Agnès b Le Pain Grillé, Amuse Bouche, Ava, Azure, Brasserie On The Eighth, Chez Patrick, La Maison, La Perouse, La Terrasse, Mirror, Saint George (Hullett House), The French Window, Whisk, The Press Room.
Casual dining: A la maison, Bistro 1979, Bistro Laurent Tourondel Steak, Bouchon Bistro Français, Brasserie de L'île, Café de Paris, Chez Patrick Déli, Classified, Congress Restaurant, Maison Eric Kayser, FAB, Fleur de Sel, Kitchen, La Cabane Wine Bistro, La Marmite, La Rôtisserie, Le Blanc, Les Fils à Maman, Ma Cuisine, Metropolitain, Pastis, Portal Work and Play, Saint Germain, Stan Café, Woo Bar, Zummer, W28
Chinese cuisine: Cuisine Cuisine, Golden Bauhinia, New Shanghai (HKCEC), Ming Court, Sing Yin (W Hotel)
Restaurants in Macau: Privé, Sky 21, Robuchon au Dôme, Mistral
A certain number of restaurants have joined the Tablemark reservation system; people who are interested to taste the French GourMay menus can easily book their tables via this system. For more information, please refer to the French GourMay brochure.
Promotion in shops and workshops:
High-end retail stores throughout Hong Kong will offer special Bourgogne products and wine promotions throughout the month of May. They include Amo Eno, Château Burgundy, Chez Patrick Déli, Christie's, City Cellar Macau, City'super, Etc wine shops, Flavour, GDV Fine Wines, Jointek Fine Wines, La Cabane Wine Cellar, LBC Fine Wine, Monsieur Chatté, Park n Shop group, Ponti Wine Cellar, Rare & Fine Wines, Sarment, The Wine Gallery, Voi_la!, Voici Wines, Watson's Wine, Dairy Farm, Yesmywine.
Throughout Le French GourMay, specialized workshops will also be organized by AWSEC, l'Atelier du Goût, Heather & March, Ecole du Vin de France, TSA Wine School, Food and Wine Academy.
Partnership with Hong Kong importers
Not less than 15 Hong Kong food and wine importers have partnered with "GourMay": Altaya Wines, ASC Fine Wines, Burgundy List, Burgundy Wine Company, Château Burgundy, Classic Fine Foods, Cottage Vineyards, Cytise Distribution, Edrington, FICO, Fine Vintage, GDV Fine Wines, Jebsen Fine Wines, Kedington Wines, K-Element, Links Concept, One Red Dot, Red Dot Dot, Olivier Pacific, Sarment, Sinolink Fine Wines, Summergate Fine Wines, Telford, The Wine House, Watson's, WAW, Wah Cheong.
They have provided various fine food and wines imported from Bourgogne for the tasting at the press conference. Moreover, they will provide the participating restaurants with liquid and solid ingredients for the preparation of the French GourMay menu.
About Le French May
Le French GourMay is a part of "Le French May", a comprehensive artistic experience that will engage all five senses of its audience.
Organized by the Consulate General of France, in collaboration with the Alliance Française of Hong Kong, and with the support of the Leisure and Cultural Services Department for the past 20 years, "Le French May" has grown to become one of the largest French arts festivals in Asia. The year 2013 also marks the 21st edition of the festival.
During its history, Le Festival has staged over 500 events of the highest international caliber, covering a broad array of artistic disciplines including the visual arts, opera, classical and contemporary music, dance, new circus performance, cinema, as well as the culinary arts, which we have developed into a standalone programme entitled GourMay.
The growing number of attendees through the years is a testimony to the fact that Le French May has earned a premium spot in Hong Kong's artistic calendar. This phenomenon is attributable to a carefully-crafted schedule of programs as well as a policy of affordable pricing. Le Festival's interactive website (www.frenchmay.com), updated daily, provides the Hong Kong and Macau attendees with easy access to all our events.