AAG Philippines honors pioneer batch of APT graduates
Cadets ready to take off to fulfill their dreams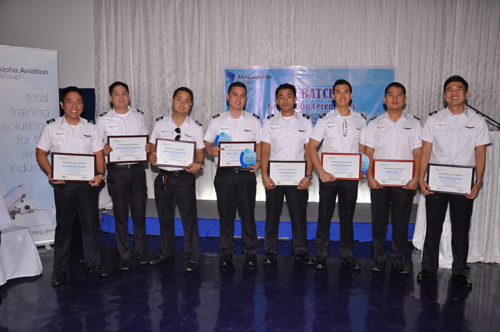 Alpha Aviation Group Philippines honors its pioneer batch of graduates from the Airline Pilot Training (APT) course , which provides cadets with basic flight and Airbus A320 training, during the first APT commencement exercises on March 16 at the Clark Freeport Zone, Pampanga.

Manila, Philippines— Alpha Aviation Group (AAG) Philippines, a premier total aviation training and solution provider, recently honored its first batch of graduates for the Airline Pilot Training (APT) course.
Jonathan Avellanosa and Marko Lester Bayrante led the pioneer batch of eight graduates of the APT course, which provides cadets with basic flight training and Airbus A320 training. Avellanosa was recognized as Best in Academics while Bayrante was awarded Best in General Handling and Best in Instruments.
The APT course provides aspiring pilots with sufficient theoretical knowledge and experience to qualify as an A320 First Officer. The training of the eight AAG cadets comprised of classroom lecture, computer-based training, simulator flight training on both fixed-base and full flight simulator, and actual flight training on the single-engine aircraft to develop their basic flight competency.
"These pilots graduating today are embarking on a great career," said Captain Mike Willers, Head of Training at AAG Philippines. "We are truly proud of our APT cadets. Their achievements show the vast potential and competence of our pilots here in the country. Indeed, they are now ready to take off and soar high," added Capt. Willers, who is a former British Airways training captain and Flight Instructor Standardization Manager for Airbus Training in UK.
AAG Philippines, which is part of global training specialist Alpha Aviation Group, provides world-class international aviation training for aspiring pilots in the Philippines and Southeast Asia. Located in Clark Freeport Zone in Pampanga, AAG Philippines is the only ISO-certified aviation training facility in the country with up to 97 percent of its A320 graduates now flying with local airlines.
For inquiries and enrolment, contact AAG Philippines at (+63) (0 45) 599 7435 or visit www.aag.aero.
About Alpha Aviation Group
Alpha Aviation Group (AAG) Philippines is one of the three academies of Alpha Aviation Group, a global group of companies providing specialist training solutions to the international commercial aviation community. With a focus on innovation, AAG is the world leader in Multi-crew Pilot License (MPL) training. An Approved Training Organization (ATO) and a certified Type Rating Training Organization (TRTO) for the Airbus A320, AAG Philippines is the leading training academy in the Philippines capable of providing a comprehensive suite of airline-standard training programs.