Award-winning Pinoy bartender joins Cucina crew in HK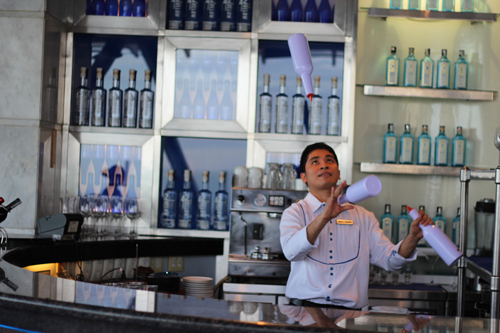 Famed Italian restaurant in Hong Kong, located at Level 6 of Marco Polo Hongkong Hotel, Cucina is exciting to welcome the award-winning bartender from the Philippines, Mr Marwell Abequibel, to showcase his cutting-edge juggling skills and signature cocktails to the guests from 5 to 11 June 2013.
Aged 25, Marwell has been a bartender at Marco Polo Plaza, Cebu since 2010. With his hardworking attitude, endurance and integrity, his skills and technique in flairtending and bartending have shown significant improvement in the past few years. His talent was first recognized in 2011 when he was awarded the first runner-up in the National Flairtending Competition. Since then, he has become a usual guest in many competitions. In March 2013, he won the champion of the 2013 Flairtending Competition (Professional Division). Last year, he joined the "World Bartending Championship 2012" on behalf of the Philippines and was at the 20th out of 65 nations. Same year, he represented Cebu to take part in the "Bartenders Master Series 2012" and was awarded first runner up.
Apart from flairtending and bartending, Marwell is also good at dancing, marathon and playing basketball. Being active and nimble in movement help Marwell reach another level of flairtending.
Graduated with a bachelor degree majoring in Food Technology and possess a great imagination on new cocktail recipes, Marwell can always delight guests with new cocktail concoctions.
Do not miss the chance to experience the well-acclaimed bartender's signature cocktails and enjoy Marwell's excellent flairtending performance during dinner periods from 5 to 11 June. A refined dining experience including Cucina's stunning harbor view and the exquisite delicacies brought by Chef Carmine Esposito is assured. For enquires or reservations, please call Cucina at 2113 0808.