Beyond Business—LBC Makes It Easy for Customers To Give Back
Poverty, global development, and societal issues. While governments debate these matters and consider what they can do to manage it, there are others who are already taking the first step.
LBC Express Inc., for instance, while a private business entity, is already making an effort to alleviate these issues with partnerships with relevant organizations and customers who want to do their part for initiatives.
"We have recently partnered with two important organizations based in Canada—the Philippine Cultural Community Center (PCCC), which is focused on providing support and services to the Filipino communities in Canada; and Answering The Cry of the Poor (ANCOP), which provides community development as well as humanitarian relief," explains Rafael Policarpio, LBC North America's Area Head.
PCCC is focused on continuous education information, planning and direction, health care and social services, and social integration for migrant Filipinos in Canada, while ANCOP is a global Catholic community present in over 100 countries geared towards poverty alleviation through effective child education and various development programs and values formation.
For the partnership, members of each organization will be given LBC Community Partner Cards, where LBC will donate $2.50 to their specific organization's cause for every transaction.
The initiative, which will begin in August, runs through November this year and is available to all members of the said Canada-based organizations.
The intent is simple, the process is uncomplicated, but the end result can move many lives.
"Ultimately, it's a means by which LBC can give back to the community with the help of our loyal customers, while at the same time providing them the kind of service that they deserve," ends Hugo Bonilla, LBC North America's Senior Vice President.
For more information on LBC, please visit http://www.lbcexpress.com; or call the hotline at (888) 652-2522.
Rafael Policarpio, LBC North America's Area Head, with Joseph Franco, PCCC's Secretary, Treasurer, and Spokesperson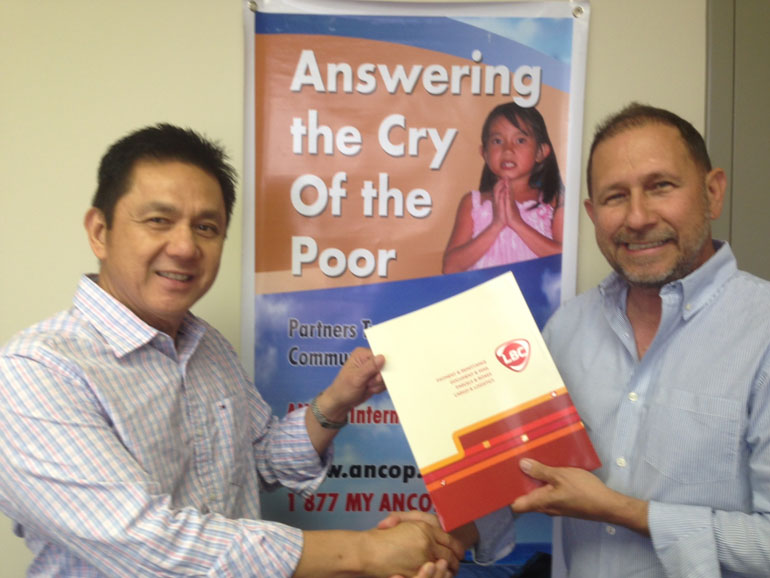 Policarpio with Ricky Cuenca, ANCOP's President
LBC Express, Inc. is the Philippines' market leader in payments, remittance, courier products, mail, parcels and, cargo logistics. Through a global presence in over 30 countries in Asia-Pacific, North America, the Middle East and Europe, LBC Express' network of 4,400 locations, partners, and agents is growing steadily, and commits to moving lives, businesses, and communities in the Philippines and across the globe. Founded in 1945 as a brokerage and air cargo agent, LBC Express pioneered time-sensitive cargo delivery and 24-hour door-to-door delivery in the Philippines. Today, it is the most admired and trusted courier, cargo, and remittance service of millions of Filipinos, an iconic and global Filipino brand. LBC can move it for you: visit us at www.lbcexpress.com, or call telephone +632 8585 999 (Metro Manila), 1 800 10 8585 999 (Provincial), and follow LBCExpress (Facebook and Twitter).