Bikram Yoga Alabang: Sharing the love from the hot room to the community
BYA holds free Bikram yoga class for the benefit of Ayala Alabang Hospice Care Foundation, Inc.
(Manila, Philippines, October 20, 2012)—Over a hundred Bikram yoga practitioners and newbies shared their blessings as part of Bikram Yoga Alabang's "BYA Shares the Love," the country's first free Bikram yoga for a cause held at Molito in Alabang, Muntinlupa City.
Bikram yoga, a 90-minute yoga session designed to boost strength and fight stress, is usually practiced in a room heated to 40 degrees Celsius. This is the first time BYA held its class outdoors.
"What makes this activity so special is not just the fact that we're doing something like this for the first time in the country, but that we are all dedicating our practice for other people's recovery and wellness," said Ginger Diaz, Bikram Yoga Alabang studio director. Attendees donated goods such as infant cereal, canned goods, instant noodles and bottled water for patients under the care of Ayala Alabang Hospice Care Foundation, Inc.
"On behalf of our patients and their families, we are very grateful to Bikram Yoga Alabang, Molito and all the participants for their donations," said Atty. Asuncion Kalalo, president of Ayala Alabang Hospice Care Foundation, Inc. The foundation offers free hospice and palliative services to patients of life-limiting illnesses in the cities of Las Piñas, Parañaque and Muntinlupa.
BYA Shares the Love, presented by Molito in partnership with Insular Life and Lightwater, is one of the activities for BYA's second anniversary themed "We Love BYA." Certified Calm, Urban Luxe, Pond's and Vaseline also supported the charity event and treated participants to freebies including free massages after their Bikram yoga session.
"With the overwhelming support from the Alabang community and our partners, we are deepening our involvement in community outreach activities like this," said Jessy Salatandre, marketing manager for Molito. "Molito is proud to be part of of this initiative and we encourage organizations and individuals to make Molito their venue for these special community events."
Molito is located along Madrigal Ave cor. Commerce Avenue, Alabang, Muntinlupa City.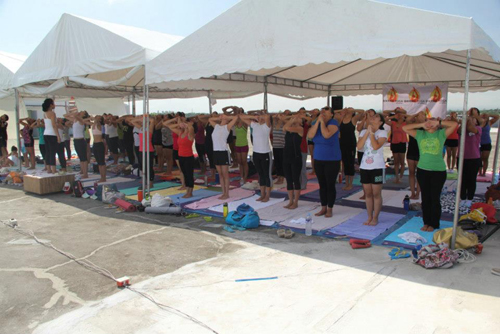 Participants do Pranayama or standing deep breathing, the first pose of the Bikram yoga series, atop one of the buildings in the Molito complex.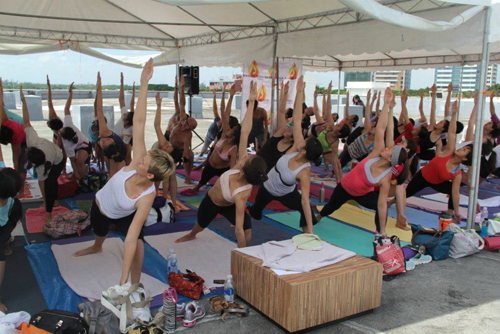 BYA yogis and newbies try Bikram yoga outside the hot room for the first time.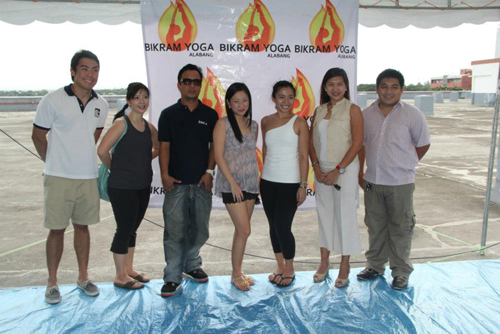 BYA Shares the Love is a community effort for the benefit of Ayala Alabang Hospice Care Foundation, Inc, an organization that cares for terminally-ill patients. Photo shows (from left): Guilly Hernandez of Insular Life, Darcy Ong of Certified Calm, Regie Soriano of Pond's and Vaseline, Gen Chua of Urban Luxe, Ginger Diaz of Bikram Yoga Alabang, Jasmin Dimalanta of Molito and Carlo Quilaton of the Ayala Alabang Hospice Care Foundation, Inc.
About Bikram Yoga Alabang
Bikram Yoga Alabang is a certified, state-of-art Bikram Yoga studio located at the 2nd Floor, Commerce Center, Commerce Ave., Filinvest Corporate City, Alabang, Muntinlupa City.
Bikram Yoga involves a series of 26 postures and two breathing exercises performed inside a heated studio (40ºC). The postures are designed to promote balance, strength, physical health, and mental well-being.Students at Bikram Yoga Alabang are taught by a team of licensed instructors led by studio director Ginger Diaz. For inquiries, call 8465496 and 09279169909 or send an email to bikramyogaalabang@yahoo.com. You may also visit the Bikram Yoga Alabang website at www.bikramyogaalabang.com.
Be a fan on Facebook: www.facebook.com/bikramalabang
Follow us on Twitter: @bikram_alabang
Follow us on Instagram: @bikramyogaalabang
About Ayala Alabang Hospice Care Foundation, Inc.
Ayala Alabang Hospice Care Foundation provides free hospice and palliative care to patients with terminal and life limiting illnesses and aims to ensure a good quality of life for both the patient and family. The Foundation envisions a community in which all individuals and their loved ones facing terminal and life limiting illnesses experience the highest quality of life with dignity and hope.
It is located at Haven for Children Compound, Alabang-Zapote Rd., 1780 Muntinlupa City. Contact them at (02) 401.1018, hospice_alabang@yahoo.com or via their Facebook page (Ayala Alabang Hospice Care Foundation Inc.).