BPAP partners with TESDA, Children's Hour for relief operations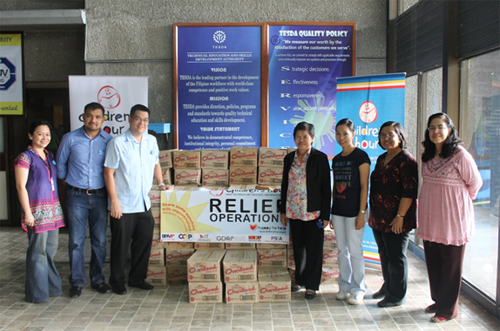 (From left) BPAP assistant executive director Geenette Garcia, CCAP executive director Jojo Uligan, BPAP executive director for Industry Affairs Raymond Lacdao, TVET Deputy Director General for Sectoral Irene Isaac, Executive Assistant to the Director General Lennie Lana, Chief of Staff – Office of the Director General & TWSP/ PESFA PMO Head Dir. Marissa Legaspi and Executive Director for Planning Office Dir. Ma. Susan Dela Rama during the turnover of relief goods on August 10.
The Business Processing Association of the Philippines (BPAP) has partnered with the Technical Education and Skills Development Authority (TESDA) and Children's Hour to support relief operations for those affected by the severe flooding that hit Metro Manila and many parts of Luzon last week.
BPAP's member associations—the Contact Center Association of the Philippines (CCAP), Animation Council of the Philippines (ACPI), Game Developers Association of the Philippines (GDAP), Healthcare Information Management Outsourcing Association of the Philippines (HIMOAP), and Philippine Software Industry Association (PSIA)—supported non-government organization Children's Hour through their Happy to Help program. Aside from donating goods, the associations also used email and social media to mobilize and encourage members to support the drive.
A total of Php 400,000 worth of donations in kind and in cash was raised by BPAP's member associations while countless IT-BPO companies are also doing their own relief efforts. According to Children's Hour, the donation will go a long way, as every Php 100,000 donation will benefit 170 families. Basic necessities such as bottled water, canned goods, snack foods, and toiletries were among the goods donated by BPAP members. Over the weekend, total packs distributed were 2,113, while 1,500 packs were donated to families in Tatalon, Quezon City and another 1,000 packs went to people in Biñan, Laguna.
"Volunteers from BPAP member associations, companies like Wells Fargo, and TESDA also assisted in repacking donations. The donations were turned over to TESDA, through the help of Shopwise, which lent four trucks to unload the goods," said Jojo Uligan, CCAP executive director.
The donations were deployed to remote areas with the help of the Armed Forces of the Philippines (AFP). "TESDA was in charge of determining the target beneficiaries, while Children's Hour distributed some of the donations to affected communities in Biñan, Laguna, and surrounding areas," said Raymond Lacdao, BPAP executive director for Industry Affairs.
"We are grateful for the assistance of BPAP in our relief operations for the flood victims, and for allowing us to harness the strength of this almost 170,000-strong industry. This further solidifies our partnership with the IT-BPO industry, which is already a major contributor to our economy," said TESDA Secretary Joel Villanueva. "Together with BPAP volunteers, our very own TESDA trainees stepped up to join relief efforts."
Relief operations are far from over, with an estimated 2.44 million people still needing assistance. BPAP and Children's Hour are accepting cash and in-kind donations such as canned goods, noodles, rice, bottled water, blankets, and medicine. For cash donations, please make checks payable to Children's Hour Philippines, Inc. In-kind donations may be dropped off at the BPAP Office at 9/F Palisades Condominium, Perea St., Legaspi Village, Makati City. Special arrangements can be made with Children's Hour for pick-ups of donations.
Volunteers and those who wish to help may coordinate directly with BPAP's Raymond Lacdao (raymondlacdao@bpap.org) through (02) 8172727 or with Children's Hour assistant executive director Geenette Garcia (net@childrenshour.org.ph) at (02) 8932236, 8941663, 7521180 or (0917) 5384467.
About BPAP
The Business Processing Association of the Philippines (BPAP) is the umbrella association for the IT-BPO and GIC (Global In-House Center) industry in the Philippines. BPAP serves as the one-stop information and advocacy gateway for the industry. With approximately 300 industry and support-industry members, including five associations, BPAP plays a pivotal role in sustaining rapid growth of the IT-BPO and GIC industry by working to ensure an enduring supply of high quality labor, supporting service innovation, and providing country visibility.
BPAP assists investors in setting up operations easily and quickly in the Philippines. Relevant research, introductions to key government and industry officials, and a series of briefings at each step of the investment process ensure a seamless development process. On-going support is provided through a wide variety of initiatives, including programs for HR development, business development, and on-going knowledge sharing and networking opportunities.