BPAP taps Sofitel Philippine Plaza
Manila, Philippines, — The Business Processing Association of the Philippines (BPA/P) has selected Sofitel Philippine Plaza as the host venue for the International Outsourcing Summit: Global Market Leaders Addressing Global Issues. Strategic marketing communications firm TeamAsia is organizing the landmark conference. Confirmed speakers include Jack Jones, Global Solutions Executive, JP Morgan Chase & Co.; Harsh Manglik, Chairman, NASSCOM & Chairman and Geography Managing Director-India, Accenture; Swaminathan Dandapani, CEO & Managing Director, Infosys BPO Limited; and Aparup Sengupta, Managing Director and Global CEO, Aegis Limited. The conference takes place October 26-27, 2010.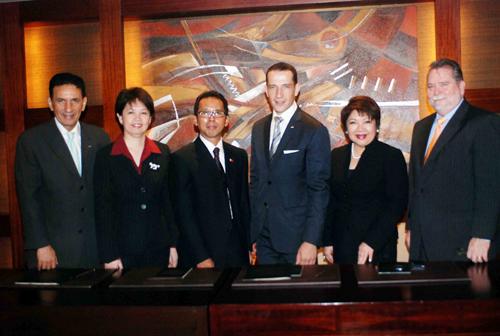 In photo are (left to right) Sofitel Philippine Plaza Executive Assistant Manager Mo Ihsan, BPAP Executive Director for Research and Information Gigi Virata, BPAP President and CEO Oscar Sañez, Sofitel Philippine Plaza General Manager Goran Aleks, Sofitel Philippine Plaza Director for Sales and Marketing Rose Libongco, and TeamAsia Managing Director Michael Alan Hamlin.