IT-BPO companies provide employee care and support
Even at the height of the recent monsoonal weather disturbance—exacerbated by a series of seasonal typhoons that skirted the Philippines—the information technology and business process outsourcing (IT-BPO) industry reported minimal short-term disruptions in their operations. As part of their disaster preparedness and business continuity plans, companies implemented response measures that prioritized the welfare of their workforces and the communities they operate from.
"Our top priority is the safety of our employees, their families, and the communities we operate from," said Benedict Hernandez, president and CEO of the Business Processing Association of the Philippines (BPAP). When Malacañang suspended work on August 7, IT-BPO employees who could not safely travel to work were encouraged to remain home for the day. Member associations of BPAP made sure that employees were safe either within their workplaces or in their homes.
Sitel Philippines Corporation's HR Mean More Hotline—set up for just such purposes—was heavily utilized by employees stranded in their homes. "The dedicated members of our HR Shared Services and volunteers from other sites, including New Zealand, manned our hotline and called our associates to extend assistance and coordinate rescue activities when needed," said vice president for Human Resources-Asia Pacific Haidee Enriquez.
"We called employees one-by-one to see if they were okay," said StarTek regional human resources director Joyce Peñalosa. "Those who expressed need for emergency assistance were referred to Metro Manila Development Authority and the Red Cross or we made the call for them."
For almost 50 NorthgateArinso employees affected by the storms, country manager Hans Montenegro said accommodation, meals, clothing, and laundry allowances were provided over two days. Meanwhile, Oce Business Services temporarily housed employees whose homes were submerged in floods. "We converted our training rooms to this purpose for the meantime," said general manager Rommel Regalado. FIS Global Solutions vice president for ITO-Philippines Armand Cajayon, Jr. said, "We ensured that we would be able to pick employees up and drop them off throughout the inclement weather before and after their shifts."
Chief marketing officer Geri Green said that The Results Companies sought relief assistance from its international headquarters in the United States and Mexico. Results' Corporate office matched up to US$500 donation at every site worldwide. Colleagues around the world pitched in to hold fundraising events and were able to provide over US$12,000 in direct relief funds including several donations from clients. In addition to immediate emergency assistance to employees, these funds will be used to assist colleagues with basic humanitarian support through a special "Care Package" program. Packages include basic needs such as food, clothing, blankets, and toiletries.
Despite the work suspension, many employees reported to work. "The management provided meals for the day, paid additional premium of 30 percent on top of the base salary, and added one day credit leave to all concerned employees," said Chiara Zotomayor, HRMall Global HR director. Similarly, ADP Philippines employees who worked on August 7 and 8 were provided with 100 percent overtime pay, according to general manager John Hickey.
In the aftermath of the flooding, Convergys provided calamity assistance to its employees after monitoring employees through its Facebook page. This supplemented the traditional phone and text brigades and helped track every Convergys employee and determine where immediate assistance was needed.
Managing director Kristina Beckendorf said that Maersk Global Service Centers has an emergency assistance program that provides various levels of financial support, including emergency loans and an advanced payroll run.
"Resilience and commitment are hallmarks of our IT-BPO employees," said Hernandez.  "We are incredibly proud of how our IT-BPO employees over the years respond exceptionally and responsibly in difficult situations."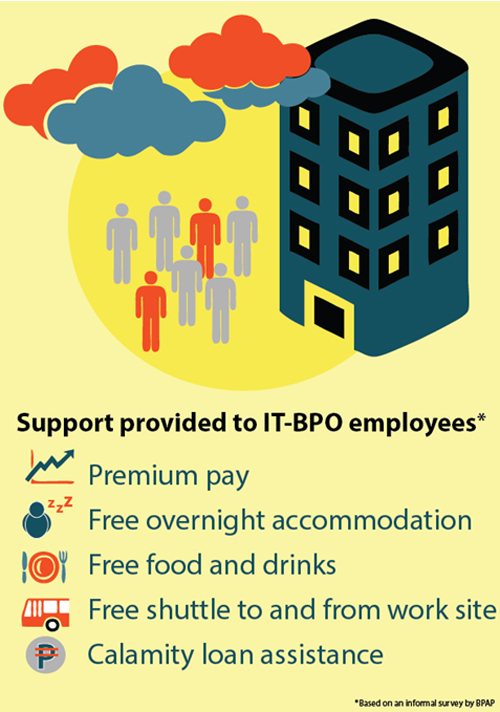 About BPAP
The Business Processing Association of the Philippines (BPAP) is the umbrella association for the IT-BPO and GIC (Global In-House Center) industry in the Philippines. BPAP serves as the one-stop information and advocacy gateway for the industry. With approximately 300 industry and support-industry members, including five associations, BPAP plays a pivotal role in sustaining rapid growth of the IT-BPO and GIC industry by working to ensure an enduring supply of high quality labor, supporting service innovation, and providing country visibility.
BPAP assists investors in setting up operations easily and quickly in the Philippines. Relevant research, introductions to key government and industry officials, and a series of briefings at each step of the investment process ensure a seamless development process. On-going support is provided through a wide variety of initiatives, including programs for HR development, business development, and on-going knowledge sharing and networking opportunities.