Building Brand Goodwill through CSR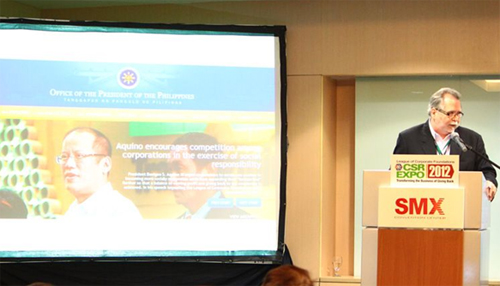 Branding authority Michael Alan Hamlin delivered a presentation on building brand goodwill through social responsibility at the recent League of Corporate Foundations (LCF) Corporate Social Responsibility (CSR) Expo. Hamlin is the managing director of full-service strategic marketing consultancy firm TeamAsia, organizer of the annual CSR Expo since 2005.
Manila, July 27, 2012 – TeamAsia Managing Director Michael Alan Hamlin presented at the recent League of Corporate Foundations (LCF) 11th Corporate Social Responsibility (CSR) Expo at the SMX Convention Center. Hamlin, who has authored several internationally released books on branding, spoke about building brand goodwill through corporate social responsibility. In his presentation, Hamlin underscored the importance of connecting to consumers on an emotional level, whether for selling products or services, or for promoting CSR.
According to Hamlin, studies show that consumers are willing to pay a premium for goods from socially responsible enterprises. It is therefore important that businesses purposely adopt a CSR strategy, which includes evaluating the social responsibility messages that will resonate with their consumers.
TeamAsia has organized the annual LCF CSR Expo since 2005. The full-service marketing consultancy firm is celebrating its 20thanniversary this year.
About TeamAsia
TeamAsia is an award-winning strategic marketing communications firm that develops place, corporate, and personal brand strategies, creative concepts, and marketing communications programs and campaigns incorporating events, public relations, and Web 2.0 tools for its clients. Its core businesses include design services; public relations, editorial, copywriting, and SEO services; media relations; event management; online campaign management; and web development. The agency also offers workshops and seminars primarily related to its core communications businesses.