"My Dream in a Shoebox" brings Christmas cheer to public schools, raises funds to build classrooms
Goes beyond target and still counting
(Manila, Philippines, December 23, 2012) – The Business Processing Association of the Philippines (BPAP), in partnership with strategic marketing communications firm TeamAsia and the Armed Forces of the Philippines (AFP), successfully launched this year's "My Dream in a Shoebox", a Christmas campaign that aims to help less fortunate children pursue their education by raising funds and handing out school supplies in simple shoeboxes.
In its third run, My Dream in a Shoebox aims to reach bigger targets, including rebuilding a school and gathering at least 3,000 shoeboxes and 200 computers for public schools. A total of 7,492 shoeboxes, more than 2,000 school supplies, 120 computers and laptops, and almost 1 million in cash donations have been collected to date and will be deployed to areas such as remote villages in typhoon-stricken Iligan City and to public schools identified by non-profit organization Children's Hour and the Department of Education.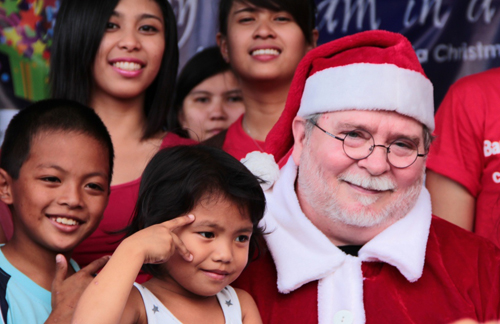 TeamAsia Managing Director Michael Alan Hamlin plays Santa during a joyful gift-giving day with kids in Batangas for the "My Dream in a Shoebox" campaign.
"BPAP aimed for bigger targets this year to make a bigger impact and serve more disadvantaged young people," said Gigi Virata, BPAP senior executive director. "Gift-giving started in Lipa, Batangas, where computers and shoeboxes filled with school supplies were distributed to 1,500 kids and to the computer laboratories of Tambo Elementary School, Paninsingin Elementary School, and Pinagkawitan Elementary School."
Raymond Lacdao, BPAP industry affairs director, added that funds raised by industry partners will also be used to assist those affected by Typhoon "Sendong" (international name Washi). Funds have already been donated to Iligan City and other remote areas through the National ICT Confederation of the Philippines and ICT Davao Inc.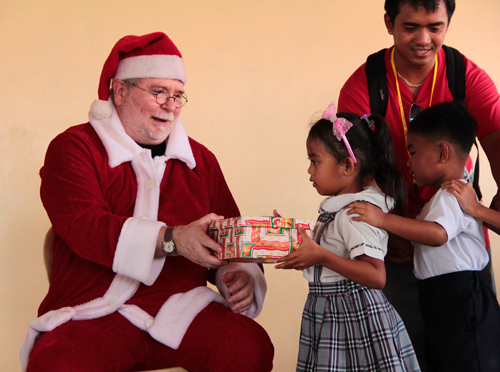 Students in Lipa, Batangas receive gifts from Santa (TeamAsia Managing Director Michael Alan Hamlin) through the "My Dream in a Shoebox" campaign.
"We are overwhelmed with the industry's response to the campaign and thank all those who volunteered and took the time to assist not only public schools this Christmas season but also remote communities affected by Typhoon Sendong not immediately reached by relief efforts," Lacdao said.
BPAP, TeamAsia and AFP, together with industry sponsors and volunteers, worked together in collecting shoeboxes, school supplies, computers, and cash donations for beneficiaries such as Children's Hour and Bayanihang Pampaaralan. Children's Hour aims to give marginalized Filipino children better access to quality education, quality health and nutrition; Bayanihang Pampaaralan is a private sector-led project that aims to build 10,000 classrooms by year 2013 and is being organized by the 57-75 Consortium.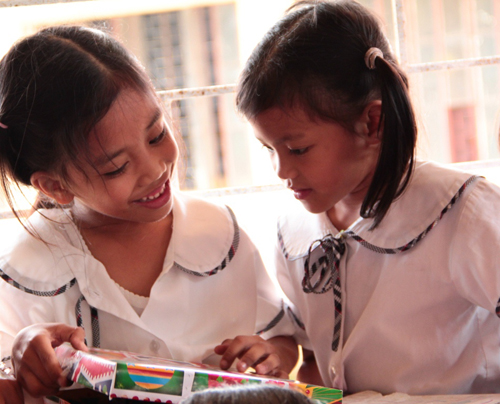 Students share their happiness after receiving school supplies and gifts in colorfully wrapped shoeboxes during the first gift-giving day of the "My Dream in a Shoebox" campaign in Lipa, Batangas.
Distribution of shoeboxes and funds will continue until the end of the year in different municipalities and provinces. About 50 companies and organizations have so far contributed to the My Dream in a Shoebox campaign. Major sponsors include Chevron Holdings Inc., E*TRADE, Firstsource, Isla Lipana & Co., JPMorgan Chase & Co., Shell Shared Services (Asia), Stream Global Services, Sutherland Global Services, and TeleTech.
For more information on the My Dream in a Shoebox campaign, visit www.teamasia.com/shoeboxcampaign.