"My Dream in a Shoebox" brings joy to Payatas kids
(Manila, Philippines)—It's been a cheerful season for Payatas Orione Foundation, Inc. (PAOFI) elementary and high school children as they each received a shoebox filled with school supplies from the "My Dream in a Shoebox" campaign.
Organized by the Business Processing Association of the Philippines (BPAP) and TeamAsia in partnership with the Armed Forces of the Philippines and Children's Hour for 2012, "My Dream in a Shoebox" is on its fourth year and aims to collect 10,000 shoeboxes, 500 computers and ?2 million in funds for the benefit of disadvantaged children and victims of Typhoon Pablo.
The gift-giving activity, held in Payatas, Quezon City, was a fun-filled success. The children could not get enough of the spirit of the season as they enjoyed the company of volunteers—their 'ate' and 'kuya' for the day, performed dance numbers, and lined up to take pictures with Mrs. Santa, portrayed by TeamAsia president and founder Monette Iturralde-Hamlin.
"When we give something, we open our hearts and feel the joy of giving. And when we receive something, we should become thankful and look forward to pass our blessings to other people," said Father Martin Mroz, Executive Director of PAOFI. Due to financial constraints, Father Mroz said they were unable to provide their scholars individual Christmas gifts this year. "Thank God BPAP chose our foundation as a beneficiary. Providing school supplies is a primary task of our scholarship program."
The PAOFI Scholarship Program assists elementary and high school children from low-income families by providing them with school supplies, uniforms, bags, shoes, and monthly allowances. The children are given access to tutorial classes on mathematics, English and computer literacy. The foundation also administers health and nutrition programs.
"Our goal for this campaign is to reach as many children as possible and bring joy to more disadvantaged children." said Geenette Garcia, Assistant Executive Director of Children's Hour, a fundraising, fund-giving, and friends-raising non-profit organization. Children's Hour began in 1999 as part of a global campaign in the UK that called for organizations and individuals to donate the last hour of their salary for a good cause towards children. "Whoever you are, whatever you're doing, you can contribute towards changing the life of a Filipino child," Garcia said.
Surpassing its target, My Dream in a Shoebox has collected 11,174 to date. "It will not end there," says Iturralde-Hamlin. "It is important for these children to receive the attention and education they need to enable them to make a difference in the world. And we intend to keep supporting this dream by continuing to give and encouraging others to do the same."
"BPAP's member companies have been very supportive of the campaign," said Raymond Lacdao, BPAP executive director for industry affairs. "Running with the campaign's spirit of giving, they enthusiastically gave their time and made their contribution in various ways. The outcome has been very inspiring."
For more information and to know how you can help, visit www.teamasia.com/shoeboxcampaign.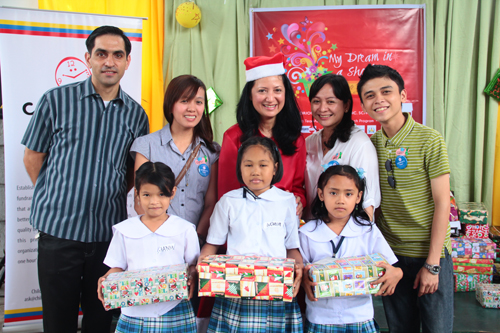 "My Dream in a Shoebox" brings more cheer in its fourth year. Photo shows Payatas Orione Foundation, Inc. (PAOFI) Executive Director, Fr. Martin Mroz (left), TeamAsia President and founder Monette Iturralde-Hamlin (center) and Children's Hour Assistant Executive Director Geenette Garcia (second from right), with PAOFI children during the gift-giving day in Payatas.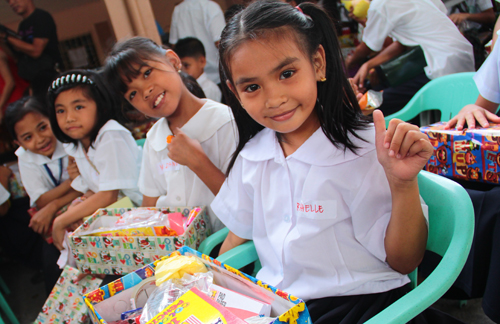 Elementary pupils in Payatas receive school supplies through "My Dream in a Shoebox" organized by Business Processing Association of the Philippines (BPAP) and TeamAsia with the help of compassionate industry friends and partners.
About TeamAsia
TeamAsia is an award-winning strategic marketing communications firm that develops place, corporate, and personal brand strategies, creative concepts, and marketing communications programs and campaigns incorporating events, public relations, and online marketing tools for its clients. Its core businesses include design services; public relations, editorial, copywriting, and SEO services; media relations; event management; online campaign management; and web development. The agency also offers workshops and seminars primarily related to its core communications businesses.
About the Business Processing Association of the Philippines
The Business Processing Association of the Philippines (BPAP) is the enabling association for the IT-BPO and GIC (global in-house center) industry in the Philippines. BPAP serves as the one-stop information and advocacy gateway for the industry. With approximately 300 industry and support-industry members, including five associations—the Animation Council of the Philippines, Contact Center Association of the Philippines, Game Developers Association of the Philippines, Healthcare Information Management Outsourcing Association of the Philippines, and Philippine Software Industry Association—BPAP plays a pivotal role in sustaining rapid growth of the IT-BPO and GIC industry by working to ensure an enduring supply of high quality labor, supporting service innovation, and providing country visibility.