DTSI Group bags Avaya Connect Philippines Business Partner of the Year Award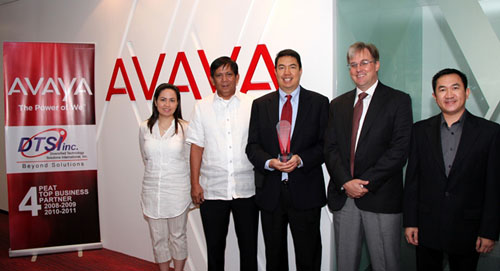 DTSI honored as Avaya Connect Philippines Business Partner of the Year. Photo shows (from left): Fides Ricasa-Dela Rosa, Philippines Channels Manager, Avaya; Edgar Doctolero, Country Manager for Philippines, Avaya; Miguel Garcia, President and CEO, DTSI; Ray Teske, Managing Director for ASEAN, Avaya; Alfred Lallana, Jr., Avaya Product Head, DTSI.
Systems integrator and facilities developer DTSI Group has been named the Avaya Connect Philippines Business Partner of the Year for 2011, singling the company out as Avaya's best-performing business partner in the Philippines for the fourth year straight.
The Avaya award was made in recognition of DTSI's overall business performance in 2011. The global business communications systems firm saw increased revenues and customer satisfaction as well as expanded market coverage for the year. Among Avaya Connect channel partners in the Philippines, DTSI achieved the highest annual revenues, had the largest number of experts certified on Avaya technology, and demonstrated advanced technical expertise in implementing and configuring Avaya's products and solutions, according to Avaya executives.
"DTSI has been an important factor in Avaya's growth in the Philippine market for a number of years," said Edgar Doctolero, Country Manager for Avaya Philippines. "Aside from delivering excellent customer service and advanced solutions, DTSI has also supported Avaya in helping us extend our reach to a broader market across the country."
DTSI is an Avaya Platinum partner and a nine-time Philippines Channel Partner of the Year awardee. The company has consistently brought in major clients including leading firms in the telecommunications, business process outsourcing, and food industries. DTSI also closed the first million-dollar deal for Avaya in the Philippines.
"Customers are our top priority and we would not have won this award without them. We only want the best for our customers, given today's increasingly digital, multi-channel environment. This is why we are pushing Avaya's proven, innovative contact center platforms," said DTSI president and chief executive Miguel Garcia.
For more than a decade, DTSI and Avaya have been major contributors to the development of the IT-BPO industry, which is expected to grow more than 20% this year and next, according to Garcia. DTSI facilitates investment in the industry by providing hosted and built-to-suit facilities for very low capital outlay, Garcia said. "We pioneered that service in the Philippines," Garcia explained, "and have provided communications systems and facilities for some of the world's largest companies."