DTSI Group inaugurates new "smart" facility
(Manila, Philippines, May 21, 2013) — DTSI Group formally inaugurated its new "smart" facility in the country as part of its growth as a global provider of end-to-end office facility solution, advanced technology infrastructure and managed services.
Located at the Makati Central Business District, the office is part of the LEED (Leadership in Energy and and Environmental Design) certified Zuellig Building and utilizes DTSI Group's capabilities in "smart" facility design. The new office was designed and fully fitted out by DTSI Group which included space planning and layout, workstation establishment, electrical and networking wiring, computing and business communications systems.
DTSI Group's expertise encompasses the LEED certification process, enabling clients to maximize their performance while providing energy control and cost savings through effective office fit-out and system integration. The new office facility reflects their dedication to efficiency, productivity, and social along with environmental responsibility. The site will stand as a showcase of the Group's capability of offering complete facilities, technology and managed solution to global and local Enterprises.
Along with the low emissivity coating of the Zuellig Building, which minimizes solar heat, energy loss and maximizes the natural lighting from the outside, the DTSI Group workspace now includes light and motion sensors that automatically adjust lighting in the room, among many other advanced features.
DTSI Group delivers end-to-end business solutions to all kinds of Enterprises with world-class standards. DTSI Group also has valuable insights on strategic office locations, both in established business districts and the "Next Wave Cities" all over the Philippines. Miguel Garcia, the Group's President & CEO, says the firm has guided many new entrant and existing locators in building their new or expansion facility within the Philippines. In 2012, the DTSI Group became part of NTT Communications, one of the world's largest corporations in the world ranking 29th on the global fortune 500 list .
.
"I'm so impressed with DTSI Group's passion for innovation and Miguel Garcia's leadership," said NTT Communications Corporation chairman Hideaki Ozaki in a speech during the inauguration ceremony. "We would like to combine these strengths with NTT Group's operational excellence to serve our customers more fully,"
As part of its growth strategy, DTSI Group is also reinforcing its role as a leading enabler for various industries. "DTSI Group aims to be an example to all enterprises. After all, it is in our business to lead in terms of innovation and technology," said Miguel Garcia. "We want the best facilities for our employees, the customers that we serve and the Philippines as a whole. Our pioneering work and service to the business environment will continue as we respond to the challenges of enterprises here and around the world."
About DTSI Group
A member of NTT Communications Corporation, DTSI Group is an award-winning, full-service provider of state-of-the art facilities, advanced communication services, and game-changing technology to companies worldwide.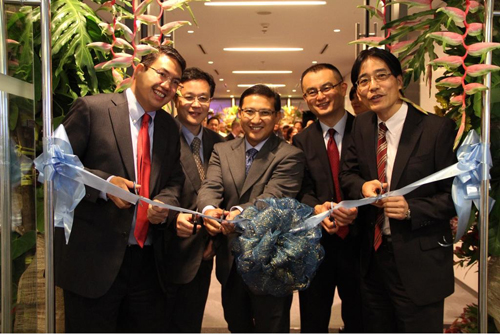 DTSI Group inaugurates new "smart" facility. Photo shows (from left): Miguel Garcia, DTSI Group President and CEO; Hideaki Ozaki, DTSI Group Chairman of the Board & NTT Vice President for Planning; Dan Reyes, Genpact Philippines Country Manager and Information Technology and Business Process Association of the Philippines (IBPAP) Board Member; Masato Tsunoda, Mizuho Corporate Bank Manila Branch General Manager; and Toru Marouka, NTT Communications Senior Vice President & Board Member.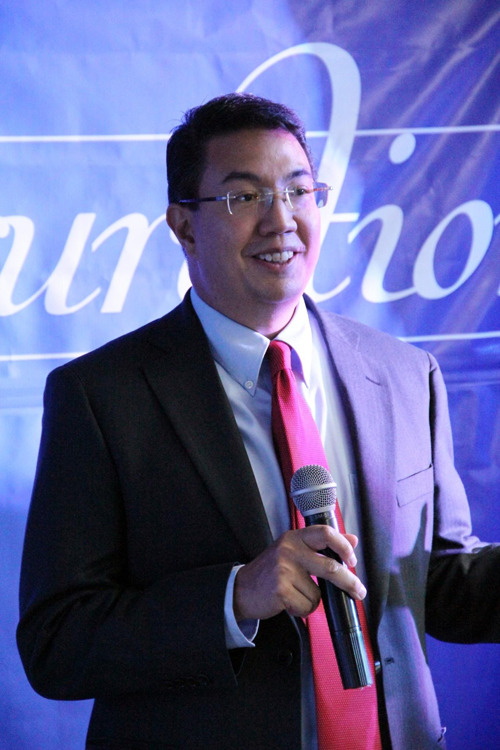 DTSI Group president and CEO Miguel Garcia introduces the firm's new "smart' facility in the LEED-certified Zuellig Building. All materials used in the DTSI Group facility are environment-friendly and designed by the DTSI Group team. "It's important for an enabler to pave the way for innovation. Not only is a 'green' office cost-efficient, it transforms and benefits our work environment as well as how we deliver value to our clients," Garcia said.