DTSI Group wins Avaya Business Partner of the Year in the Philippines for the fifth consecutive year
(Manila, Philippines, February 28, 2013) — DTSI Group, a leading enabler of global organizations, has been named Avaya Business Partner of the Year in the Philippines for fiscal year 2012. For five consecutive years, and for a total of nine years, Avaya has recognized DTSI Group among all its partners in the Philippines for exhibiting overall business performance excellence, especially in value selling and revenue.
A member of the NTT Communications Corporation and provider of build-to-suit facilities and innovative business technology and communication services, DTSI Group has largely contributed to the growth and development of the information technology and business process outsourcing (IT-BPO) industry, enabling over 60 percent of the contact center seats in the country.
As a global provider of business communication systems, Avaya Philippines has worked hand-in-hand with DTSI Group in delivering world-class facilities and technology since May 2000. "DTSI Group has continuously demonstrated its commitment to Avaya for the past 12 years. From both a sales and support standpoint, they have been dedicated to changing the customer experience, making the customer experience better," said Ed Doctolero, Avaya Philippines Senior Country Manager. "As a platinum and premier partner of Avaya, DTSI Group has contributed a lot in terms of bringing forward our message and executing our strategies for growth and relevance in the marketplace, and in delivering customer value with Avaya solutions."
DTSI Group also received three citations for the "strategic wins" of International School Manila, Magsaysay Transport & Logistics, and Philam Life. The firm also bagged Business Partner Sales Associate of the Year through Jay Sandoval and Business Partner Pre-Sales Associate of the Year through Crislin Picana.
"The ties between DTSI Group and Avaya is really strong. Avaya has been vital to our success and we're excited about what we're going to be doing and launching in the next few years," said DTSI Group Vice President of Sales Jonathan Miclat.
"As we celebrate this recognition for our hard work and accomplishments, we look forward to more years of success for both DTSI Group and Avaya," said Miguel Garcia, DTSI Group President and CEO. "This year promises to be a great year for the Philippine economy and we are committed to help facilitate further investment and jobs in our country with continued dedication to providing state-of-the-art services."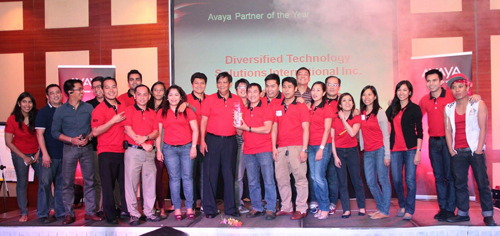 DTSI Group named Avaya Partner of the Year in the Philippines for 2012.
About DTSI Group
A member of global telecom leader NTT Corporation, DTSI Group is an award-winning, full-service provider of state-of-the art facilities, advanced communication services, and game-changing technology to Fortune 1000 corporations and mid-size companies.
DTSI Group's partnership with NTT Communications Corporation (NTT Com) is seen to strengthen the Philippines' contact center capabilities, presenting unparalleled opportunities through combined expertise, client base and resources. Ranked as the 29th in the Fortune 500 list (2012), NTT has had 100 years of experience since the introduction of the telegraph in Japan.
At the forefront of technology innovation, DTSI Group's systems and services include business and professional consulting services for investors; built-to-suit financing; facilities design, construction, and management; security, technology, and communications infrastructure deployment and management; and cloud services, among others. For further information on DTSI Group, please visit www.dtsigroup.com.