Fujitsu Enterprise Solutions creates advantage for petrol distributor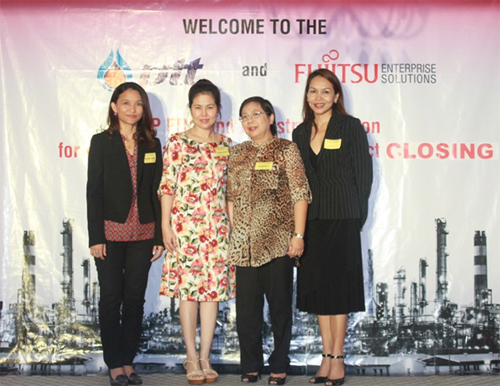 From left: Thanyaporn Onchaieur, chief financial officer, PTT Philippines Corporation (PTTPC); Sukanya Seriyothin, PTTPC marketing director, Yasmin Calma, consulting director, Fujitsu Enterprise Solutions; Shai Vilaon, sales and marketing director, Fujitsu Enterprise Solutions.
Manila, Philippines (March 9, 2012) — Petroleum distributor PTT Philippines Corporation successfully implemented the SAP ERP ECC6.0 Industry Solution for oil and gas under the guidance of Fujitsu Enterprise Solutions.
The project, called Perform to Transform (P2T), aims to enhance PTT's operational efficiencies as part of the organization's initiative to standardize processes. Enhancement solutions include sales and distribution, materials management, industry solutions for oil, financials/controlling, advanced business applications programming, and BASIS.
Fujitsu Enterprise Solutions completed the P2T project within seven months, allotting a month-long support timeframe to ensure that all systems are in place. To date, PTT is taking advantage of the improvements in performing its core business.
"Fujitsu Enterprise Solutions is honored to be PTT Philippines' SAP implementing partner. With the highly successful launch of the ERP ECC6.0 Industry Solution for Oil and Gas, we hope to further support PTT in achieving its business goals for 2012 and beyond," said Jan Biezepol, managing director of Fujitsu Enterprise Solutions.
About Fujitsu Enterprise Solutions
Fujitsu Enterprise Solutions is a full service provider of information technology and communications solutions. Throughout Australia, New Zealand, and the rest of Asia Pacific, the company partners with its customers to consult, design, build, operate, and support business solutions. From strategic consulting to application and infrastructure solutions and services, Fujitsu Enterprise Solutions has established reputation as the single supplier of choice for leading corporate and government organizations management solution. For more information about Fujitsu Enterprise Solutions, please email at fes.enquiries@au.fujitsu.com.