Fujitsu sponsors 2012 SAP Executive Golf Tournament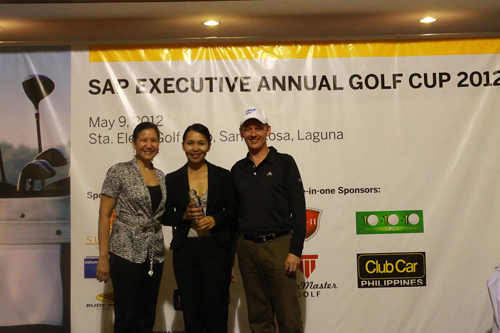 (From left: SAP country head for Software Business Jennie Ligones, Fujitsu sales and marketing director Shai Villalon, and SAP Managing Director for Philippines and Emerging Markets Darren Rushworth)
Manila, Philippines (May 28, 2012)—Leading Japanese information and communications technology (ICT) company Fujitsu sponsored the 2012 SAP executive golf tournament, an annual by-invitation event for golf enthusiasts from different SAP partner companies.
"As a proud SAP partner, we are very honored to support this executive golf tournament," said Jan Biezepol, Fujitsu managing director for Asia. "We value this as an opportunity to engage and network with other partners, and to celebrate our involvement with SAP." Fujitsu is known to have largest and most mature SAP consulting practice in the Asia-Pacific region.
Shai Villalon, Fujitsu's sales and marketing director for local and international business, was overall female first runner-up in the tournament. Held at the Sta. Elena Golf Club in Santa Rosa, Laguna, the tournament was attended by over 80 executives and decision-makers from the country's leading organizations.
About Fujitsu
Fujitsu is the leading Japanese information and communication technology (ICT) company offering a full range of technology products, solutions, and services. Over 170,000 Fujitsu people support customers in more than 100 countries. We use our experience and the power of ICT to shape the future of society with our customers. For more information about Fujitsu, please email at info@ph.fujitsu.com.