Get hot with Bikram Yoga Alabang's free classes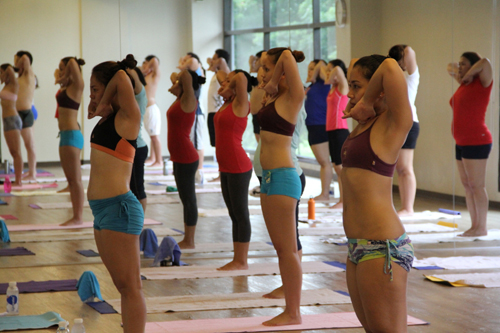 Photo: Pranayama, or Standing Deep Breathing, is the first breathing exercise in Bikram yoga's 26-posture series. (Bikram Yoga Alabang)
In celebration of its second anniversary this October, Bikram Yoga Alabang is opening the hot room once again to everyone who'd like to experience the benefits of Bikram yoga — for free.
Bikram Yoga Alabang, the hottest Bikram-certified studio in the Metro South, is offering Open House Weekends on October 6, 7, 13, 14, 21, 27 and 28 at 9:30 am and 3:00 pm. "Last year, so many people enthusiastically joined our free weekend classes, eager to learn what Bikram yoga is all about," said Ginger Diaz, BYA studio director. "Bikram yoga is actually a beginner's yoga. No matter what body type or lifestyle you have, a 90-minute session will help you get started on a journey to wellness."
Bikram yoga is scientifically designed to strengthen the body, improve concentration and reduce stress. It is composed of 26 postures and two breathing exercises, performed in the same order every class. Though the poses involve plenty of stretching, flexibility is not a requirement. The studio's licensed instructors only encourage students to give their best.
To register, please call the studio at 846-5496. Reservations are on a first come, first served basis. The Open House Weekends is just one of the exciting activities BYA is dishing out on its second sizzling year. For more information and updates, visit the website at www.bikramyogaalabang.com or follow BYA on Twitter, Facebook and Instagram (bikramyogaalabang).