Global Academy supports Pilipinas Go4Health
Global Academy partners with DOH to promote "Go Sustansya"
(Manila, Philippines, November 27, 2013) — Global Academy joins forces with the Department of Health (DOH) in promoting Pilipinas Go4Health by advocating a healthy lifestyle in their organization, helping educate the public about food safety and sanitation, and creating simple and deliciously healthy recipes that Filipinos can enjoy. The award-winning culinary school, together with other organizations, recently signed a memorandum of understanding (MOU) to formalize the partnership.
Pilipinas Go4Health is a healthy lifestyle movement that aims to encourage Filipinos to commit to four key health habits. These include maintaining a proper diet (Go Sustansya), doing regular physical activities (Go Sigla), avoiding or moderating alcohol consumption (Go Slow sa Tagay), and avoiding tobacco use (Go Smoke-free).
"We at Global Academy, hereby pledge to aggressively support the Pilipinas Go4Health movement and begin living our daily working lives standing on the platform of the four key health habits," said Anna Ledesma, Global Academy brand manager.
"Continuously, we shall innovate similar programs to [encourage] employees to aim for a sound mind and body. We shall diligently represent ourselves as health ambassadors and promote a healthy lifestyle as part of the benefits program of our organization. In all we do, we seek not only to strengthen our bodies, but to strengthen our bond as a community," Ledesma said.
Nutrition is a vital part of an individual's optimum health and development. Proper nutrition maintains a strong immune system, and lowers the risk of non-communicable diseases or NCDs such as diabetes and cardiovascular disease. According to the World Health Organization (WHO), the trend towards foods high in sugar and fat double the burden of under- and overnutrition. WHO reports that approximately 2.3 billion adults are overweight, over 700 million people are obese, and 925 million people are undernourished.
Based on the results of the seventh National Nutrition Survey conducted in 2008, over 65% of Filipinos are energy-deficient in their daily intake and more than 70% lack iron, vitamin A, calcium and vitamin C in their daily diet.
Describing the decision as an uphill battle, Ledesma spoke of the difficulties of staying healthy especially among chefs and culinary students, many of whom still struggle to keep themselves fit and properly nourished.
"Global Academy trains approximately 800 enrollees each year, and we want to influence them to live healthy lives as well, not just through their diet, but also through the rest of the four key health habits of the movement," said co-founder, chief financial officer and president, Chef Benny Ledesma, Jr.
"As culinary experts supporting this movement, we commit to provide a variety of nutritious recipes with ingredients that can be easily found locally for the benefit of all. We are also helping promote food safety and sanitation as part of our advocacy," he added.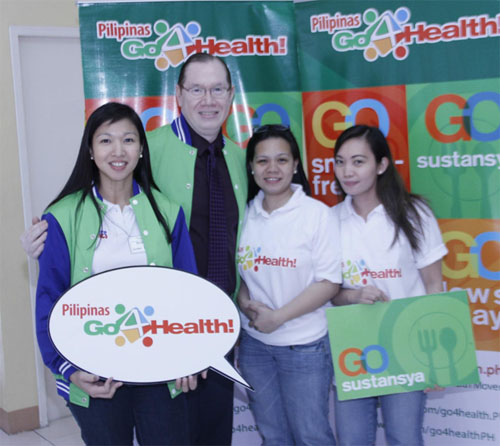 Global Academy supports Pilipinas Go4Health. Leading culinary school Global Academy is one of the advocates of the national healthy lifestyle movement, Pilipinas Go4Health. Photo shows (from left): brand manager Anna Ledesma with Department of Health Assistant Sec. Eric A. Tayag; Global Academy human resources manager, Cherry Barona; and students and alumni relations officer, Irma Resurreccion.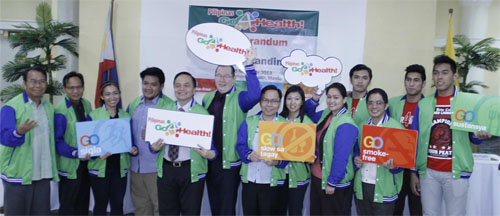 As one of the partners of the Pilipinas Go4Health movement, Global Academy, represented by its brand manager Anna Ledesma (sixth from right), is advocating a healthy lifestyle in their organization and introducing simple and deliciously healthy recipes that Filipinos can enjoy.
About Global Academy
Global Academy is an award-winning culinary academy recognized for its world-class excellence and competitiveness. The academy offers professional courses for aspiring chefs, pastry chefs and hospitality professionals for affordable tuition fees. As the first culinary school in the Philippines recognized by the World Association of Chefs Societies (WACS), Global Academy is distinguished for its quality education and unmatched culinary standards. For more information, visit http://globalacademyph.com.
About the Department of Health
The Department of Health (DOH) is the country's overall technical authority on health—both national health policy maker and regulatory institution. DOH plays three major roles in the health sector, namely: leader in health, enabler and capacity builder, and specific services administrator.
As the governing body for health and wellness, it is mandated to develop national plans, technical standards, and health guidelines, as well as to provide special tertiary health care services and technical assistance to health providers and stakeholders. For more information about DOH, please visit www.doh.gov.ph.
About Pilipinas Go4Health
Pilipinas Go4Health is the nationwide healthy lifestyle movement spearheaded by the Department of Health (DOH) and its partners. It aims to inform and encourage Filipinos from all walks of life to practice a healthy lifestyle by making a personal commitment to physical activity, proper nutrition, and the prevention or cessation of smoking and alcohol consumption. Through the movement, DOH and its partners work together to promote and establish a sustainable environment for healthy living. Visit www.go4health.ph for more information.