Gurango Software appoints Philippine managing director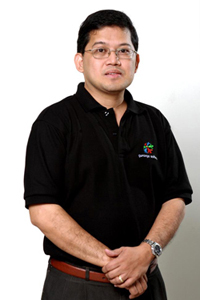 (Manila, Philippines, November 29, 2011) – Gurango Software Corporation (GSC), a provider of powerful and cost-effective management solutions, announced the appointment of Manny Tanseco as managing director of its Philippine office. Tanseco will take over the role from founder Joey Gurango effective January 2012.
As Philippine managing director, Tanseco will lead the company's front-office and customer-facing business units for its major products – Microsoft Dynamics AX, GP, CRM and Sharepoint, and Human Capital Management solutions. He will also lead GSC's sales and marketing department and finance, administration, HR, and information technology services.
"It's a great privilege to be appointed as managing director and to continue the efforts of the company's founder, Joey Gurango. I will continue to deliver best to meet the responsibilities and tasks in growing Gurango Software in the Philippines," expressed Tanseco.
For over 15 years, Tanseco has managed teams that sell, deploy, and support Microsoft Dynamics products. He has been part of the leadership team since 2005, spearheading the development of the company's Dynamics GP practice and the meteoric growth of GSC's Dynamics AX practice over the last four years.
"I have worked with Manny since 1996, and I have the utmost respect and confidence in his ability to take our Philippine organization to the next level of success," Gurango said. Following the transition, Gurango will lead the technology aspect of the business, heading development teams as well as the company's new offering, Gurango Hosted Solutions.
GSC delivers services from three countries in the Asia-Pacific region: the Philippines, Singapore, and Australia.
About Gurango Software Corporation
Gurango Software Corporation helps clients achieve their ambitions by building business solutions using Microsoft technologies. The company works closely with clients to improve the productivity of their people and reduce costs using finance, manufacturing, supply chain, HR/payroll, customer relationship, and hosted solutions built on Microsoft technology platform. GSC is a Microsoft Silver Partner in Asia-Pacific region and a Microsoft-dedicated provider of Dynamics ERP solutions.