Hong Kong Summer Spectacular presents hot events, cool places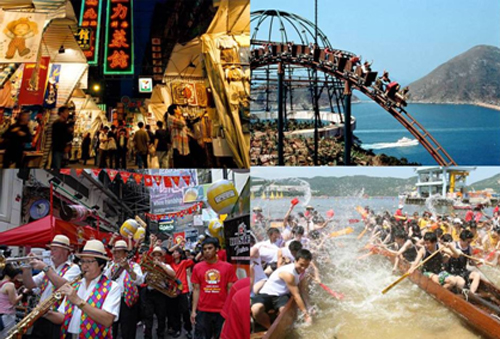 (Manila, Philippines) –To fully capture the opportunities brought by summer, a popular travel season for vacationers in the region, the Hong Kong Tourism Board (HKTB) will once again launch a wave of promotions under the "Hong Kong Summer Spectacular" campaign. Themed "Hot Events • Cool Place", the campaign (from 22 June to 31 August) will bundle an extensive range of summer activities in the city with tempting offers on shopping and dining. By showcasing Hong Kong's fun and round-the-clock excitement, the HKTB aims to encourage travellers to spend their holidays in Hong Kong, and generate business opportunities for the tourism and related sectors.
Here's a roundup of hot events in HK's coolest places that you can catch until August:
Strut a show reel of summer style! (June 26 – July 19) – Share your hottest, most creative summer style and get a chance to visit Hong Kong for free! Join the Hong Kong Summer Showreel online promo and be the lucky winner of HK$200,000 spending bonus during the VISA go Hong Kong Super Shopper! All you have to do is to visit www.HongKongSummer.com/ph, create your Hong Kong summer show reel and automatically share it via Facebook so your friends can vote. You'll also get a chance to get freebies from our friends in Sasa.com! To get started, log on to HongKongSummer.com.
Dragon Boat Carnival (July 2, 4–8) – Soak up the sun and experience the thrill of the international dragon race at East Tsim Sha Tsui as Hong Kong holds the Dragon Boat Carnival. Afterwards, head to the San Miguel Beer Garden at the UC Centenary Garden to relax, grab a pint of beer, and have your fill of local delicacies to recharge your energy after the intense battle of the greatest dragon boat racers from around the globe. You can also listen and dance to live musical performances or enjoy juggling acts just around the corner of the carnival-themed beer garden. Admission is free.
VISA Go Shopping Indulgence (June 22–August 31) – What's Hong Kong without shopping? Explore one of the world's best shopping districts and get surprises from VISA! Enjoy great finds and instant rewards when you shop at key shopping malls and pay with your VISA card at designated prices. Grand prizes are in store for lucky-draw winners. You can also get extra discounts and offers when you spend your VISA card at designated Quality Tourism Services (QTS) Scheme accredited merchants.
Lan Kwai Fong Beer & Music Fest (July 14–15) – Party with friends at Lan Kwai Fong Beer & Music Fest where gourmet food, good beer, and great music make for one hot summer experience. Choose your grub and brew from over 70 participating restaurants or join as many dance and musical performances, interactive games, and competitions in a span of two days. Admission is free. For more information, visit www.lankwaifong.com.
Hong Kong Book Fair (July 18–24) – Bookworms love summer too! Share the joy of reading at the annual HK Book Fair, featuring a series of events including seminars, cultural guided tours, and book displays in cafés, bookshops, and other venues across the city. For more details, visit hkbookfair.hktdc.com.
Better Living Expo (July 20–22) – Celebrate life and treat yourself to lifestyle products and services catering to beauty, well-being, hobbies and learning, and get bargains on specialty school products and other popular items. For more information, check out www.betterliving-expo.com.
14th Ani-Com & Games (July 27–31) – The young and young-at-heart converge at the Hong Kong Ani-Com & Games! Limited-edition comics, figures and other collectibles from Hong Kong, Japan, and other countries, cosplay competitions, and famous Japanese animation singers are only some of the attractions and entertainment this event offers. For more details, visit www.ani-com.hk.
Summer Pop (August 11) – Groove with Hong Kong's best music entertainers! This signature summertime concert in August features top local bands and nonstop hits to keep your summer in perfect melody.
Food Expo (August 16–20) – Asia's culinary capital cooks up something delicious for you this summer! The Hong Kong Food Expo features sumptuous culinary creations from East and West, delighting hundreds of thousands of foodies with gourmet recipes from around the world. Plus, exclusive demonstrations by international experts and Michelin chefs will keep your culinary cravings satisfied. For more information, log on to hkfoodexpo.hktdc.com.
Computer and Communications Festival (August 24–27) – Techies unite! The Computer and Communications Festival in Hong Kong is the place to be for everything digital, from computer software and hardware, games, gadgets, accessories, video and digital cameras, music players, mobile phones, to the latest gizmos and many more! Be part of this amazing tech fest! For more details, visit www.hkccfexpo.com.
VISA Go Super Shopper (August 29–31) – Contestants recruited from Mainland China, India, Indonesia, Malaysia, the Philippines, Singapore, South Korea, Taiwan and Thailand will form groups of two, with each group designing and completing a one-day Hong Kong itinerary. The competing teams will be required to take snapshots during their itineraries with mobile phones provided by the organiser. On 31 August, the teams will present their snapshots to the judging panel, and share their itinerary concepts and shopping experiences. The winning team will be awarded HK$200,000 in a VISA spending credit.
Destination Offerings (For bona fide visitors only)
An array of privileges will be offered by local attractions.
Attraction
Promotion Period
Offer
Hong Kong Wetland Park
9 July to 31 August 2012
Souvenir pack worth $50 and a special guided group tour
Madame Tussauds Hong Kong
22 June to 31 August 2012
An exclusive promotional offer (worth over HK$300) jointly presented by Madame Tussauds Hong Kong, Bubba Gump Shrimp Co, Chow Tai Fook,  Häagen-Dazs and Sasa
Ngong Ping 360
Until 31 March 2013
10% discount at Ngong Ping 360 Souvenir Shops
Ocean Park Hong Kong
22 June to 15 September 2012
10% discount on admission tickets
sky100
11 July to 2 September 2012
Gift worth $120
The Peak
1 July to 31 October 2012

"The Peak I Love You" limited-edition postcard set for redemption upon spending of HK$100 or above at The Peak Tower
Special offers at over 25 shops, restaurants and entertainment venues at The Peak Tower upon presenting a Peak Tram ticket, Peak Tram Sky Pass or Sky Terrace 428 admission ticket

June

Madame Tussauds Hong Kong – Michael Jackson Lands at Madame Tussauds Hong Kong [late June]
Hong Kong Wetland Park's Bouncy Wetland [13 June to 5 November 2012]

Picasso – Masterpieces from Musée National Picasso, Paris [From now until 22 July 2012]
Divine Power – The Dragon in Chinese Art [From now until 18 November 2012]
Chinese Opera Festival 2012 [15 June to 5 August 2012]
International Military Tattoo in Celebration of the 15th Anniversary of the Establishment of the HKSAR [22 to 24 June 2012]
'A Lofty Retreat from the Red Dust: The Secret Garden of Emperor Qianlong' Exhibition [22 June to 14 October 2012]
Tai O Dragon Boat Water Parade [23 June 2012]

July

Ocean Park's Polar Adventure [6 July to 26 August 2012]
Hong Kong Disneyland – Grizzly Gulch and Toy Story Land
Ngong Ping 360 – Shaolin and Wu Dang martial arts extravaganza at
Ngong Ping 360 [1 July to 2 September 2012]
The Peak – Post Love to the Future [1 July to 31 August 2012]

Fireworks Display to Celebrate the 15th Anniversary of the Establishment of the Hong Kong Special Administrative Region [1 July 2012]
Cultural July [1 to 24 July 2012]
International Arts Carnival 2012 [6 July to 19 August 2012]
Cantonese Opera Young Talent Showcase [17 July to 31 August 2012]
'The Majesty of All Under Heaven: The Eternal Realm of China's First Emperor' Exhibition [25 July to 26 November 2012]

August
Summer Pop Live in Hong Kong 2012 [11 August 2012]

Hong Kong Summer International Film Festival [14 to 28 August 2012]
Hong Kong International Tea Fair [16 to 18 August 2012]
Silvermine Bay Music Festival 2012 [17 to 19 August 2012]