inContact provides flexible, user-friendly cloud applications for call centers
Software provider signs up deal with local BPO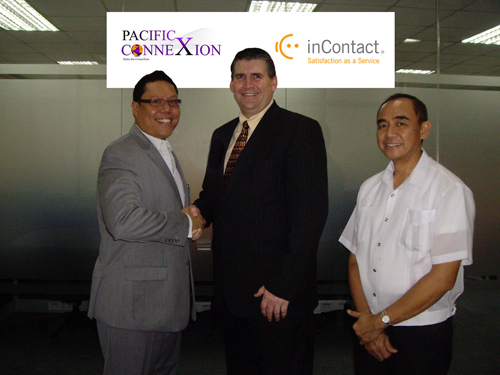 Local BPO and call center Pacific Connexion inks deal with inContact.Photo shows (from left to right) Pacific Connexion President & CEO Pex Arellano, inContact Director of Sales Development David Edgel, and inContact Country Manager Junie Pama.
(Manila, Philippines) – As an increasing number of companies in the country migrate to cloud-based services, software provider inContact focuses on providing the best cloud applications fit for call centers.
The hosted call center software platform, developed by the company, aims to make call centers gain more profit by replacing old technologies, increasing uptime, and reducing security vulnerability of call center businesses, with ease.
"Our end-to-end cloud computing call center services are especially designed for call center companies with either simple or complex needs. We provide various types of solutions for all call center software concerns – from computer programs and connectivity solutions, to workforce management and training tools, inContact ensures that call centers get the most out of any product and service option they choose, regardless of their scale," inContact country manager Junie Pama said.
inContact has also deployed more than 750 successful deployments in over 100 countries. Recently, the company signed a deal with Pacific Connexion, a local BPO firm in Ortigas.
"inContact's solution is perfect for call centers as it provides flexibility. With their solutions, you'll have more options, depending on what your call center needs. There's no limit on the number of seats, users, months, or years that you have to specify before acquiring any of their services. Plus, you can easily integrate their products to other software," Pacific Connexion CEO Pex Arellano said.
The setup process is also simple, which starts with inContact's Professional Services team conducting a three-stage process of installation that has been refined through hundreds of deployments over the last 10 years.
"The three-step process of installation includes configuration, deployment, and leveraging. Under the configuration stage is selecting solutions, customizing them, and integrating them with the necessary systems to enable the solutions," Pama explained.
"For the deployment stage, inContact will stage the environment, train the agents, and enable the company to go live when it's ready. Lastly, the leveraging stage includes monitoring progress, managing moves or changes, and improving the metrics that matter to your business."
Onsite and remote assistance will also be provided to all customers through all phases of implementation. Deployment is fast and can be done within 60 days or even faster if needed.
About inContact
inContact (NASDAQ: SAAS) helps call centers around the globe create profitable customer experiences through its powerful portfolio of cloud-based call center software solutions. The company's services and solutions enable call centers to operate more efficiently, optimize the cost and quality of every customer interaction, create new pathways to profit and ensure ongoing customer-centric business improvement and growth. To learn more, visit www.inContact.com.