inContact taps IP-Converge for cloud hosting services
Partnership forged to strengthen local BPOs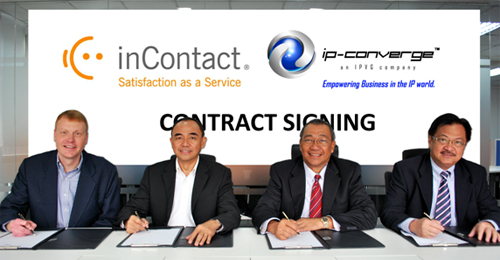 Photo shows (from left to right): Kevin Jensen, inContact Director for Enterprise Implementations, Professional Services; Junie Pama, inContact Country Manager; Rene Huergas, IP-Converge President; and Butch de los Reyes, IP-Converge SVP for Managed Data Services.
Manila, Philippines – Cloud-based software provider inContact recently partnered with Philippine-based Internet Data Center operator IP-Converge for its cloud hosting services. The partnership calls for inContact's application servers to be co-located in IP-Converge's Data Center, and shall provide connectivity to inContact's offices and clients.
According to inContact Country Manager Junie Pama, "this partnership will allow inContact to manage its newly inaugurated site in Bonifacio Global City, Taguig, using the robust network infrastructure of IP-Converge. The site will serve as inContact's Asia-Pacific headquarters, which will serve the growing BPO industry's solutions needs in the region, primarily the Philippines."
"We chose IP-Converge for its telco-grade Internet data center facilities to serve our global clients. With its world-class IP-based solutions and services, we know we will be able to deliver high performance to all our customers," Pama said.
The deal also aims to actualize inContact's objective of providing more affordable cloud-based software to local call centers and BPOs through the highly resilient global internet access of IP-Converge. The internet access will give inContact's cloud technologies the high service availability that customers demand.
"We are confident that IP-Converge will provide the efficiency to support our expansion goals. We're here to help call centers and BPOs to create a stronger, more profitable BPO industry in the country. We're glad to find a company with the same credibility and mission as we have," Pama added.
"We're very excited about this partnership with inContact. Their goal to enhance the technological landscape for BPO companies in the Philippines goes well with our aim to empower business in the IP world", said IP-Converge president Rene Huergas. "We see this as a move to support our BPO industry as it further expands into becoming a power player in the global BPO arena," said IP-Converge president Rene Huergas.
IP-Converge will also be providing inContact's headquarters with its Global Internet Access, as well as a direct link to the IPC Data Center in RCBC Plaza, Makati City.
About inContact
inContact (NASDAQ: SAAS) helps call centers around the globe create profitable customer experiences through its powerful portfolio of cloud-based call center software solutions. The company's services and solutions enable call centers to operate more efficiently, optimize the cost and quality of every customer interaction, create new pathways to profit and ensure ongoing customer-centric business improvement and growth. To learn more, visit www.inContact.com.
About IP-Converge
IP-Converge™ (PSE: CLOUD) is the first and only Internet Data Center and Cloud Services Provider listed on the Philippine Stock Exchange. It is an information technology & telecommunications company, providing local and regional enterprises with an array of managed data services and cloud-based business solutions at international standards. The company operates true carrier-neutral, telco-grade Internet Data Center facilities in the Philippines as well as its own Asia-Pacific network infrastructure, and works with global technology leaders to deliver only the best solutions and services to its clientele. An ISO 9001:2008 Certified company, the foundation of IP-Converge's business is centered on customer satisfaction through high-quality, on-time delivery, and a personalized "boutique" approach to clients. For more information, visit www.ip-converge.com.