Iturralde-Hamlin appointed to Tourism Promotions Board
(Manila, Philippines, November 12, 2012)—Monette Iturralde-Hamlin, president and founder of TeamAsia and president of the Philippine Association of Convention/ Exhibition Organizers and Suppliers (PACEOS), was appointed board member of the Philippine Tourism Promotions Board (TPB) representing the conventions, meetings, incentive travel, conventions, exhibitions and events (M.I.C.E.) services and facilities sector.
Citing recent industry figures, Tourism Secretary Ramon Jimenez Jr. said that MICE events "earn 16 times more than regular tourism." Compared with its competitors in the region, the Philippines currently has about 23,000 square meters of space for MICE events in Manila and Cebu. Singapore has approximately 180,000 square meters, while Thailand has close to 200,000 square meters of space.
"PACEOS has been offering advanced skills training on MICE to improve the quality and competence of our local industry players," said Iturralde-Hamlin. "We have some catching up to do. But we're off to a good start with the launch of the very popular 'It's More Fun in the Philippines' campaign early this year. With world-class MICE venues expected to be built in locations such as Taguig and Davao, we can expect a boost in the global competitiveness of the business events industry in the Philippines. This will largely contribute to Philippine tourism."
Iturralde-Hamlin is the president and founder of award-winning strategic marketing firm TeamAsia, the first agency in the region dedicated to brand visibility and non-traditional marketing communications. She is heavily involved with business and creative processes that make TeamAsia a respected pioneer in Asia and an arbiter of industry standards of performance for 20 years. TeamAsia's notable projects include the League of Corporate Foundations' Corporate Social Responsibility (CSR) Expo, International Outsourcing Summit, and the Christmas campaign "My Dream in a Shoebox" in partnership with the Business Processing Association of the Philippines (BPAP).
As president of PACEOS, a non-profit association of professional event, exhibition and convention organizers, Iturralde-Hamlin has been active in improving the quality and competence of local players in the industry.
Iturralde-Hamlin is also a trustee and the public affairs director of the League of Corporate Foundations (LCF), a network of over 70 operating corporate foundations and corporations that promotes the strategic practice of Corporate Social Responsibility (CSR) among its members and the larger business community. She is a distinguished public speaker and a business consultant, delivering presentations and workshops on subjects such as event management, presentation skills, business writing, team building, and dealing with difficult people.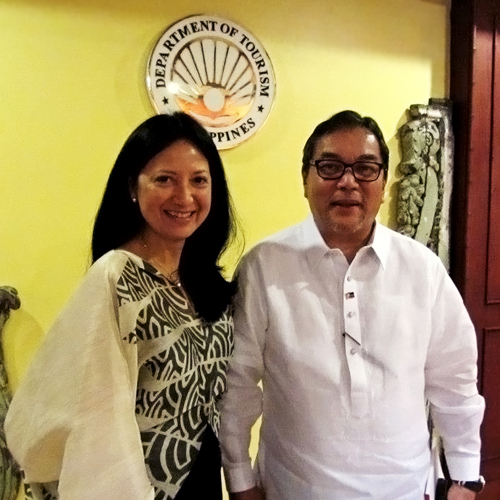 Tourism Promotions Board board member Monette Iturralde-Hamlin with Tourism Secretary Ramon Jimenez.
About TeamAsia
TeamAsia is an award-winning strategic marketing communications firm that develops place, corporate, and personal brand strategies, creative concepts, and marketing communications programs and campaigns incorporating events, public relations, and online marketing tools for its clients. Its core businesses include design services; public relations, editorial, copywriting, and SEO services; media relations; event management; online campaign management; and web development. The agency also offers workshops and seminars primarily related to its core communications businesses.