Make lasting memories this graduation month at 4 Fingers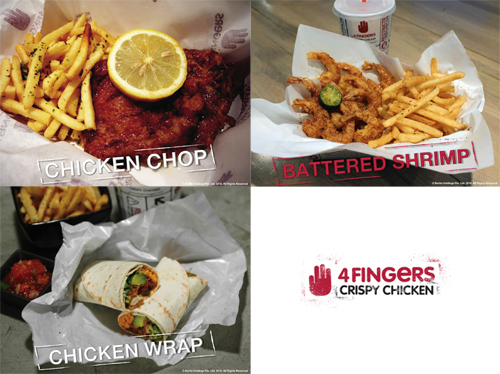 Manila, Philippines – This graduation month, bring your friends and family to 4 Fingers Crispy Chicken and bond over good food at sulit prices for a memorable after-grad celebration.
Choose from an array of food items in the 4 Fingers menu, including crispy chicken wings, chicken burger, chicken chops, chicken drumsticks, battered shrimp, crispy calamari, katsu sandwich, french fries, rice boxes, and chicken wrap. Then, make lasting memories by having your family or barkada photo taken with the 4 Fingers Crispy Chicken graffiti wall as your background.
Want to celebrate at home? Order as many 4 Fingers Crispy Chicken as you want, bring it home, and serve along with your choice of graduation menu. If you still can't decide on what to order, here's a brief description of each of the 4 Fingers treats on the menu:
Crispy chicken wings. Covered in either soy garlic or spicy sauce, 4 Fingers Crispy Chicken wings packs a lot of crunch and flavor as it comes in smaller pieces. The crispy chicken wings are available in 6-, 12-, and 18-piece; with fries; or with the 4 Fingers Crispy Chicken signature rice.
Chicken burger. Composed of two buns, crispy chicken piece and lettuce inside, the chicken burger is perfect for those who want their 4 Fingers Crispy Chicken on-the-go. Like all other crispy chicken pieces in the menu, the chicken fillet in 4 Fingers chicken burger is coated either with signature soy garlic or spicy sauce.
Chicken chops. Large and crispy, this chicken portion will definitely leave you full in one sitting. Coated with 4 Fingers' secret recipe sauce, this crispy chicken's perfect with french fries or a cup of rice.
Chicken drumsticks. Great for drumstick lovers, 4 Fingers Crispy Chicken drumsticks have that succulent, crispy skin with just the right amount of soy garlic or spicy sauce for that juicy chicken meat.
Crispy calamari. With just the right amount of sweetness from the sauce and the perfect crunch from its light crispy coat, the crispy calamari is a seafood lover's delight.
Battered shrimp. Like the crispy calamari, the battered shrimp's crispy coating and sweet sauce covering the fresh, tender shrimp makes it a standout.
Katsu sandwich. This new type of sandwich fills a fried mantou – a soft, creamy Chinese steamed bun, with crispy chicken fillet and spicy kimchi. A well-received addition to the Philippine food scene, the katsu sandwich is a simply a must-try.
Skinny Fries. 4 Fingers' thin strips of potato are drizzled with powdered seaweed and red pepper for an added punch that makes it a perfect pair to 4 Fingers chicken, shrimp, or calamari.
Rice boxes. No meal would be complete with at least a cup of rice. 4 Fingers' rice is drizzled with powdered seaweed and red pepper and a bit of teriyaki sauce for a more appetizing meal.
Chicken wrap. The chicken wrap is another great food item for the busy set. The 4 Fingers tortilla wrap is filled with minced chicken, lettuce and 4 Fingers secret chicken wrap sauce that goes perfectly with the filling.