Save on Shopping and Shipping for the Upcoming Dubai Summer Sale
Everyone gearing up to bag bargains for Dubai's anticipated city-wide sale, take note—LBC is making sure that shoppers have an easier time to pack those finds and send it back home.
Dubai Summer Surprises (DSS), which starts on July 23 and runs until September 5, marks the start of a busy season for the city as thousands of participating retailers announce great discounts and markdowns for the annual shopping event. This DSS season, the 2-million UAE-based Filipinos can now look forward to save not just in shopping but also in shipping their boxes to the Philippines as LBC launches its Shopping Suki Bundle promo.
"An event like this only gives our kababayans more reason to send their padama to friends and family in the Philippines," explains Carina Oliza, LBC's Dubai Team Head. "So from July 10 to September 12, LBC is offering an AED30 discount for any two boxes sent via sea cargo for a minimum total sending fee of AED300, and an AED50 discount for any two boxes sent via air cargo for a minimum total sending fee of AED600."
In partnership with The Filipino Channel (TFC), LBC will also be giving out a ticket to Duel in Dubai 2 or a Star Cinema movie pass for free for every two shippers who avail the Bundle promo with one pick-up point and schedule.
LBC's Shopping Suki Bundle promo is part of the courier service's commitment to moving lives and bridging the distance between overseas Filipinos and their loved ones back home. As the trusted partner around the world, any Filipino based in the 30 countries where LBC operates can go to any of courier's 4,400 branches, partners and agents, and trust that their packages will arrive safely, no matter the distance.
"Here at LBC, we understand that every package is sent with a thought and intention behind it. Our goal is to become a reliable channel, not only for the padala, but the padama as well," ends Charles Custodio, LBC's Abu Dhabi Team Head.
The Shopping Suki Bundle promo will be held from July 10 to September 12.
For more information on LBC, please visit http://www.lbcexpress.com or call the hotline at 800-035-702-444.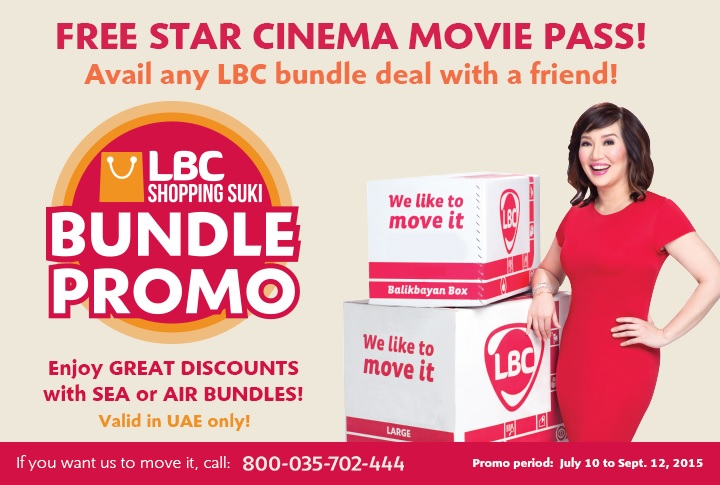 Avail of LBC's Shopping Suki Bundle Promo with a friend and get a free Star Cinema movie pass on top of your discount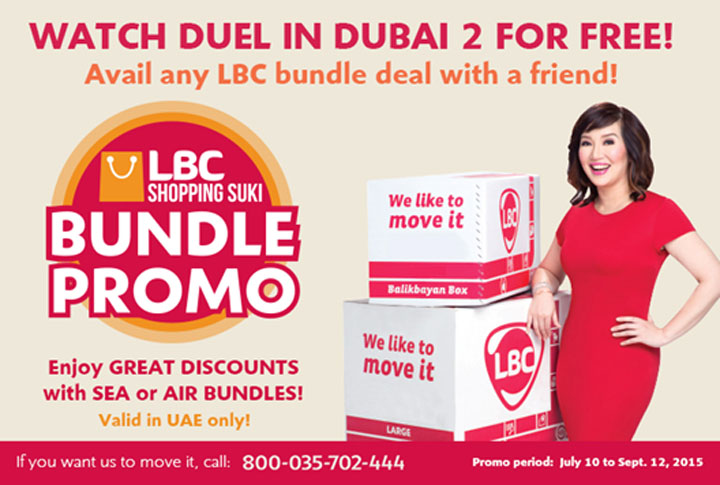 Avail of LBC's Shopping Suki Bundle Promo with a friend and get a free ticket to Duel in Dubai 2 on top of your discount
About LBC
LBC Express, Inc. is the Philippines' market leader in payments, remittance, courier products, mail, parcels and, cargo logistics. Through a global presence in over 30 countries in Asia-Pacific, North America, the Middle East and Europe, LBC Express' network of 4,400 locations, partners, and agents is growing steadily, and commits to moving lives, businesses, and communities in the Philippines and across the globe. Founded in 1945 as a brokerage and air cargo agent, LBC Express pioneered time-sensitive cargo delivery and 24-hour door-to-door delivery in the Philippines. Today, it is the most admired and trusted courier, cargo, and remittance service of millions of Filipinos, an iconic and global Filipino brand. LBC can move it for you: visit us at www.lbcexpress.com, or call telephone +632 8585 999 (Metro Manila), 1 800 10 8585 999 (Provincial), and follow LBCExpress (Facebook and Twitter).