StarTek organizes blood donation drive and fundraising for Philippine Red Cross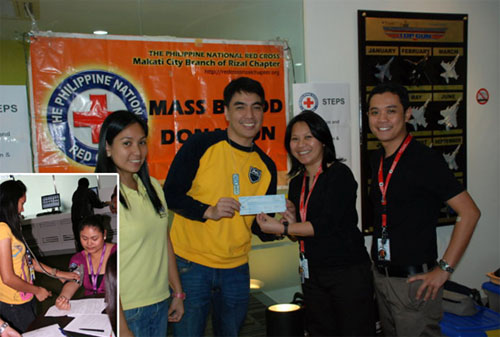 (Manila, Philippines, April 7, 2010) – As part of its Community Matters program, high-value business process outsourcing (BPO) services provider StarTek recently organized a blood donation drive and fundraising activity to contribute to the Haiti Fund of the Philippine Red Cross (PRC).
StarTek sold dress-down passes to employees and raised Php27,000, which was turned over to the Haiti Fund. In addition, StarTek employees arranged a blood donation drive. Forty-two employees donated more than 400cc of blood each, adding 42 much-needed bags of blood to the Red Cross' supply. The donation drive was held at the employee lounge of StarTek's Makati facility.
The StarTek Community Matters program is intended to contribute to the development of the communities in which the company's facilities are located through regular corporate social responsibility (CSR) initiatives. The support for Haiti was an exception in that it was meant to contribute to relief efforts for that earthquake-devastated country.
Photo shows (from left to right) Rita Sebastian and Dr. Allan Bala from the Red Cross Makati Chapter; Ryan Aldaba, StarTek Branding and Creative Manager and Aleth delas Armas, StarTek Recruiting Director . Inset shows a StarTek employee being assessed for the blood donation.
About StarTek
StarTek, Inc. (NYSE: SRT) is a high quality business process outsourcing (BPO) company dedicated to service. For over 20 years, the company has been committed to serving the needs of its clients and their customers. StarTek helps its clients manage the customer experience across the customer life cycle, resulting in improved customer retention, increased revenue, and greater cost efficiencies. Its comprehensive suite of solutions includes sales, order management and provisioning, customer care, technical support, receivables management, and retention programs. The company also offers clients a variety of multi-channel customer interaction capabilities including voice, chat, email, IVR and back-office support. Headquartered in Denver, Colorado, StarTek has 19 delivery centers including onshore locations in North America, near shore in Costa Rica, offshore in the Philippines and virtually through its StarTek@Home workforce. For more information, visit www.StarTek.com or call +1 303 262 4500.