TDS and PSTD hold First Annual BPO Training Excellence Awards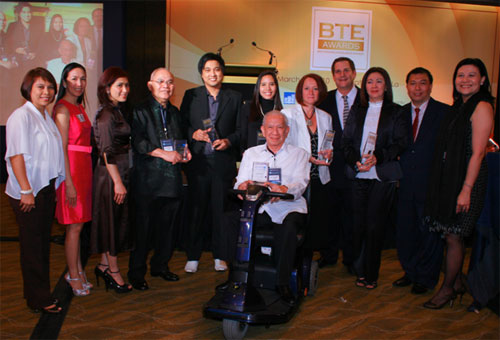 TeleDevelopment Services, Inc. (TDS) and the Philippine Society for Training and Development (PSTD) presented the First Annual BPO Training Excellence (BTE) Awards during the 4th Annual Call Center and BPO Training Convention held recently. The awards honored individuals and companies that consistently exemplify world-class standards, best practices, and innovation in the field of call center, business process outsourcing (BPO), and knowledge process outsourcing (KPO) training.
Photo shows (from left): Elvie Tarrobal, chair, Fellowship – PSTD; Ofel Montallana-Orcales, president, PSTD; Bambi Santos, training director, TDS; Dr. Jose Mordeno, founder and president, Speechpower, Special Citation; Orlando Agawin, manager, Training and Delivery, Aegis PeopleSupport, Inc., Training Manager Excellence Award; Vita Marie Viajar, senior manager, Training and Development and Talent Acquisition, Integra Business Processing Solutions, Inc., Trainer Excellence Award; Deanna Bishop, senior VP for HR, HSBC, Business Training Innovation Award; Manuel Agcaoili, founder and president, Nova Foundation, Special Citation; Jon Kaplan, president, TDS; Rozanne Parungo, VP, HR and Training, Integra Business Processing Solutions, Inc., Commitment to Training Award; Jesse Rebustillo, assistant VP for Classified Ads, Philippine Daily Inquirer; and Atty. Ma. Jamea Garcia, executive director for Talent Development, Business Processing Association of the Philippines (BPAP).
About TeleDevelopment
TeleDevelopment has been providing clients with global outsourcing and back-office solutions since 1991, and has supported over 450 captive and outsourced teleservices and BPO providers' human capital and processed development needs.