TELUS International Philippines celebrates Canada Day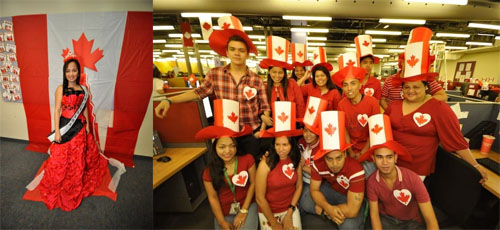 Manila, Philippines—Top call center and outsourcing services provider TELUS International Philippines (TIP) celebrated Canada Day across its three sites in Manila.
TIP team members wore red, dressed up like their favorite popular Canadian celebrities, and decorated their workplaces for the special occasion.
"We celebrated Canada Day to show camaraderie with TELUS in Canada, our parent company," said Javier Infante, TIP president. "We are pleased to be part of such an important celebration and thank all our members who participated in this company-wide activity."
On the day of the celebration, members enjoyed Canadian-themed photo booths, TELUS giveaways and cupcakes, and a special film screening of "The Proposal" and "Yes Man", which feature Canadian actors Ryan Reynolds and Jim Carey, courtesy of the Movie Club, one of TIP's special interest groups.
Other special interest groups also participated in the event. The Photography Club held a contest for the best photo of the celebration, while the Socio-Civic Club and Corporate Culture set up booths where members could get news about future activities.
Edylaine Francisco, a non-voice agent who won the best in costume award says, "I really enjoyed dressing up as Ms. Canada since I took this Canada Day celebration to heart.  It was a different experience as the mood in the office was festive with several team members posing with me for photos.  I felt that we were really one with our parent company in celebrating Canada Day."
According to TIP human resources vice president Cris Rosenthal, TIP members were thrilled to participate: "It was fun seeing our members getting ready and excited for our celebration. Everyone was willing to put extra effort into making it a truly a memorable experience."
About TELUS International Philippines, Inc.
TELUS International Philippines, Inc. is a leading Philippine-based provider of contact center and business process outsourcing solutions. It is a subsidiary of TELUS Communications, a leading national telecommunications company in Canada, with $9.9 billion of annual revenue and 12.3 million customer connections including 7 million wireless subscribers, 3.7 million wireline network access lines, and 1.2 million Internet subscribers. For more information about TELUS International, please visit telusinternational.com.