TELUS International Philippines celebrates ISO 20000 certification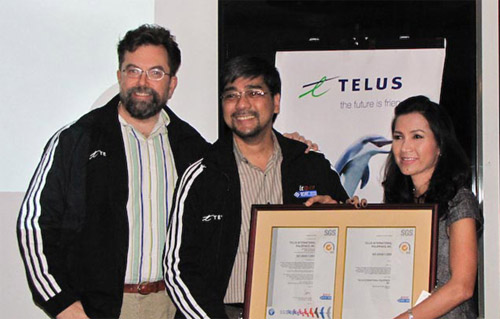 In photo: TELUS International vice president for global operations Paul Egger with TELUS International Philippines vice president for Application Management and IT Services (AMITS) Jonathan Dayao, and SGS Philippines managing director Rosario Cajucom-Bradbury
Manila, Philippines – TELUS International Philippines (TIP) was recently recognized as one of a handful of ISO 20000-certified outsourcing companies in the country by the Société Générale de Surveillance (SGS) Philippines. The recognition ceremony was held recently at the TELUS office in Market! Market!
The gathering was attended by TELUS International vice president for Global Operations Paul Egger, TIP's vice president for Application Management and IT Services (AMITS) Jonathan Dayao and his team, as well as SGS Philippines' managing director Rosario Cajucom-Bradbury, who awarded said recognition.
"The ISO 20000 certification emphasizes our commitment to service improvement and quality. It is proof that our IT management services are world-class and at par with the best in the world," said Jonathan Dayao. "This is not a mere recognition ceremony, but a celebration of talent."
Rosario Cajucom-Bradbury stated, "With the ISO 20000 recognition, we share a distinct partnership with TELUS International Philippines in terms of excellence and leadership, but most importantly, customer commitment. TELUS International Philippines worked hard for the certification, which benefits not only the company, but also its clients and employees."
Mr. Egger has great confidence in the TIP team behind the achievement, "The establishment of ISO 20000 certification was the result of a tremendous team effort between our partners and the many TELUS International team members who supported the exercise selflessly. This certification demonstrates the pre-eminence of our service in the market; however it is our skilled TELUS International team members and their commitment and dedication to high-quality service and continuous improvement that sets us apart from the competition."
About TELUS International Philippines, Inc.
TELUS International Philippines, Inc. is a leading Philippine-based provider of contact center and business process outsourcing solutions. It is a subsidiary of TELUS Communications, a leading national telecommunications company in Canada, with $9.8 billion of annual revenue and 12.3 million customer connections including 7 million wireless subscribers, 3.3 million wireline network access lines, and 1.2 million Internet subscribers. For more information about TELUS International, please visit telusinternational.com.