TELUS International Philippines, De La Salle University formalize partnership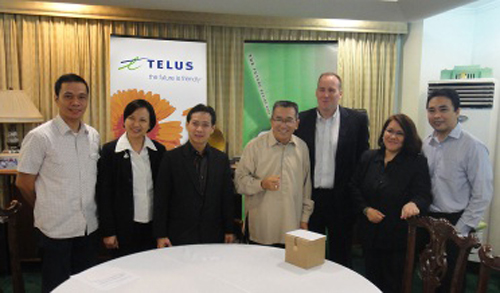 TIP executives and DLSU officials meet at the La Salle campus in Taft. Photo shows (L-R) DLSU College of Liberal Arts Dean Dr. Dominador Bombongan, Jr., DLSU College of Computer Sciences Dean Dr. Rachel Roxas, DLSU Executive Vice President for External Relations and Internationalization Office Dr. Alvin Culaba, DLSU President and Chancellor Br. Narciso Erquiza, Jr., TIP Country Manager Jeffrey Uthoff, TIP VP for Human Resources Cris Rosenthal, and TIP Director for Learning and Development and Corporate Culture Joel Pelayo.
Manila, Philippines—Top call center and outsourcing services provider TELUS International Philippines (TIP) has forged a partnership with De La Salle University (DLSU) to provide TIP members access to higher education and learning opportunities.TIP executives met with DLSU officials to formalize the agreement, as well as introduce their new country manager, Jeffrey Uthoff.
The partnership supports TELUS International University (TIU), TIP's innovative initiative to support team members who wish to pursue higher education. The program allows TIP members to finish their bachelor degree or pursue a master degree on-site while continuing to work at TELUS. The first batch of TIU began classes on March 2, 2011.
"We have been working with DLSU since the start of TIU and we are proud that our partnership with DLSU has been formalized," TIP president Javier Infante said. "We know that if our members receive a La Sallian education, they can stand out from the rest. They will grow personally and professionally and will be ready for new opportunities."
DLSU is one of two schools that has partnered with TIP. Courses towards a degree for a Bachelor of Arts, Humanities from University of Asia and the Pacific (UA&P) and a Bachelor of Science in Information Systems for DLSU are available.
TIU is one of the TIP's corporate social responsibility (CSR) initiatives exclusive to its members. Students enjoy the benefits of working and studying at the same time. Through the TIU program,
team members have access to reduced rates for school fees and books; and can enjoy the convenience of computers and learning facilities at work. The company also assigned rooms in their facilities to serve as classrooms. A library was constructed at TELUS Market! Market! as part of this initiative to create a study space for team members.
"At TELUS, we support the life-long learning of our team members. TIU is one of the ways we promote our company's culture of learning. Our goal is to provide assistance to team members who were unable to finish their undergraduate degrees. With the help of schools like DLSU, we are making that goal achievable," Infante added.
About TELUS International Philippines, Inc.
TELUS International Philippines, Inc. is a leading Philippine-based provider of contact center and business process outsourcing solutions. It is a subsidiary of TELUS Communications, a leading national telecommunications company in Canada, with $10.1 billion of annual revenue and 12.4 million customer connections including 7.1 million wireless subscribers, 3.7 million wireline network access lines, and 1.2 million Internet subscribers. For more information about TELUS International, please visit telusinternational.com.