TELUS International Philippines and Gawad Kalinga display spirit of giving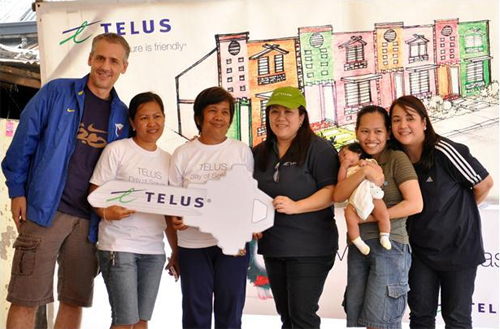 TELUS International Philippines officially turns over houses at GK2 Village, Brgy. Kasama Ka, Batasan Hills, QC. In photo (L-R) Warren Tait, VP and Regional Head of Operations, Telus International; Mila Geolago, President of KASAMAKA Association of Brgy. Batasan Hills with her family; Cris Rosenthal, VP for Human Resources, Telus International Philippines; and Janet Bulaong, Director for TELUS Consumer Care
Manila, Philippines – Team members of TELUS International Philippines (TIP) displayed their spirit of giving as they officially turned over 10 new homes to community members of the TELUS-Gawad Kalinga (GK) 2 Village in Batasan Hills, Quezon City.
Dubbed the "Volunteerism Day of TIP," the simple yet meaningful event was graced by GK Founder Tony Meloto and his staff, as well as volunteer team members from across TIP. TIP team members conducted the usual build out activities – cement mixing, shoveling piles of rubble, and passing around sacks filled with construction material. Furthermore, they hosted the first TELUS GK Village Christmas party for the residents of the community. The children were treated with fun activities such as face painting as well as other games.
The highlight of the event was the official turnover of the first 10 homes to deserving families in the community. This proved to be a significant moment, as it symbolized the beginning of TIP's commitment to help build a second village for GK. Recently, TIP successfully completed its first GK village in Pook Masagana, Quezon City, with a multipurpose hall and 70 homes, and pledged to build an even bigger one in Kasama Ka, Batasan Hills, Quezon City.
Tony Meloto, during his speech to TELUS team members, said, "For me, BPO should stand for Bayani ng Pilipinas (heroes of the Philippines) since you help the Philippine economy by becoming the call center capital of the world," he said in reference to the Philippines overtaking India as the highest revenue-generating BPO country in the world. He also added, "Mahalin natin ang bayan natin. Maging volunteer sa GK (Show some love to your country. Volunteer for GK). You should be proud of working for TELUS because you are helping the fight to eliminate poverty in the country."
TELUS International's philosophy of corporate social responsibility (CSR) is deeply ingrained within its core values. Its high level of engagement stems from its deep commitment to local communities. By making CSR a corporate pillar and truly embracing the "we give where we live" philosophy, TELUS International has provided an opportunity for its team members to play a positive role in poverty reduction and community building in a number of neighborhoods around the globe.
About TELUS International Philippines, Inc.
TELUS International Philippines, Inc. is a leading Philippine-based provider of contact center and business process outsourcing solutions. It is a subsidiary of TELUS Communications, a leading national telecommunications company in Canada, with $9.6 billion of annual revenue and 12 million customer connections including 6.7 million wireless subscribers, 3.8 million wireline network access lines, 1.2 million Internet subscribers and 228,000 TELUS TV subscribers. For more information about TELUS International, please visit telusinternational.com.