TELUS International Philippines opens TELUS International University library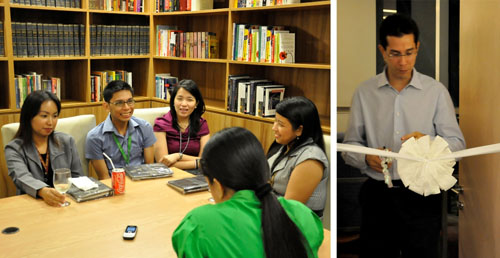 In photo: (L) TELUS International Philippines team members and TELUS International University students enjoy the new TIU library; (R) Javier Infante, president of TELUS International Philippines, cuts ribbon on new library
Manila, Philippines – TELUS International president Jeffrey Puritt and TELUS International Philippines (TIP) president Javier Infante opened the TELUS International University (TIU) library at the TELUS office in Market! Market!, Taguig City. The opening ceremony was attended by the TIP senior management team, as well as the first group of TIU students.
TIP recently launched TELUS International University, providing the opportunity for team members to complete their college degrees while working for TIP. This on-site university concept is made possible through strong partnerships between TIP and top universities in Metro Manila.
"At TELUS International, we support life-long learning. We hope the new TELUS International University library will encourage every TIP team member to gain knowledge by studying, reading and discussing new ideas with their colleagues," said Mr. Puritt.
The library is one of TIP's initiatives to enhance the company's culture of learning. It has books on a host of subjects, several study areas and computers available for all TELUS team members.
About TELUS International Philippines, Inc.
TELUS International Philippines, Inc. is a leading Philippine-based provider of contact center and business process outsourcing solutions. It is a subsidiary of TELUS Communications, a leading national telecommunications company in Canada, with $9.8 billion of annual revenue and 12.3 million customer connections including 7 million wireless subscribers, 3.3 million wireline network access lines, and 1.2 million Internet subscribers. For more information about TELUS International, please visit telusinternational.com.