TELUS International Philippines promotes wellness and healthy living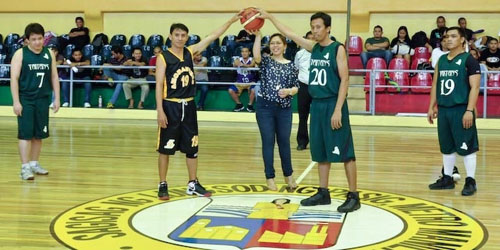 Manila, Philippines—To promote a healthy lifestyle and address work-related stress, TELUS International Philippines (TIP), a top call center and business process outsourcing services provider, created a wellness and healthy living program for its most-valued assets: its team members.
"We understand the pressure of working as a call center agent," stated TIP president Javier Infante. "We utilize a number of different approaches to address work-related tension, and this program promises to be an engaging way to encourage our team members to live a healthier lifestyle."
The wellness and healthy living campaign is a holistic program that aims to improve the physical, emotional, and social well-being of TIP members. The program includes different healthy lifestyle activities throughout the year to keep TIP members in top shape, enhance their performance, and keep positive mindsets. Some of the initiatives include a sportsfest, Health Is Wealth meal program, the construction of a fitness center, and a company-wide wellness advertising campaign.
The 2011 TELUS Healthy Living Sportsfest was launched on June 18, 2011 at the Pasig Sports Complex to kick-off the company's wellness and healthy living campaign. The opening ceremony was attended by senior management and hundreds of team members who cheered for their favorite basketball and volleyball teams.
The sportsfest, which runs for two months, will also feature badminton and cheering competitions. These activities not only provide an opportunity for TIP members to showcase their talent in sports but also help promote teamwork, camaraderie, and sportsmanship.
Another part of the program is Health Is Wealth, where healthy meals are served in the pantries daily across all TIP sites. Menus are displayed with nutritional facts and food trivia to educate team members about the importance of eating healthy meals.
Fitness classes and personal training sessions are available to TIP members free of charge at the newly constructed fitness center at TELUS House Araneta. A basketball court was also constructed near the fitness center as part of the facility.
To keep TIP members up-to-date on the current activities of the wellness and healthy living program advertisements are posted in all TIP sites. Internal communication materials include fitness tips and guidelines in managing stress, and keeping a sound mind, body, and spirit.
About TELUS International Philippines, Inc. TELUS International Philippines, Inc. is a leading Philippine-based provider of contact center and business process outsourcing solutions. It is a subsidiary of TELUS Communications, a leading national telecommunications company in Canada, with $9.9 billion of annual revenue and 12.3 million customer connections including 7 million wireless subscribers, 3.7 million wireline network access lines, and 1.2 million Internet subscribers. For more information about TELUS International, please visit telusinternational.com.