TELUS International Philippines receives award at the 10th anniversary of Charity First Foundation, Inc.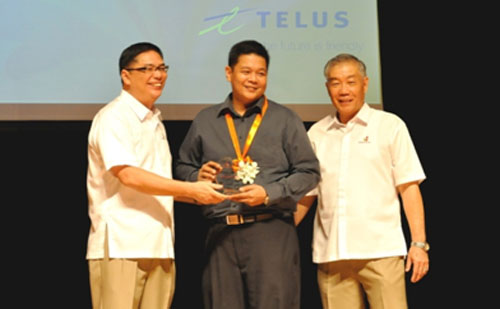 Leading call center and outsourcing services provider TELUS International Philippines (TIP) was awarded a plaque of appreciation by the Charity First Foundation for their support of the organization through the purchase of environmental bags. Since 2008, TIP has been using the bags to distribute recognition gifts or "Friday treats" to team members. The awarding ceremony was held during the foundation's 10th anniversary celebration.
The Charity First Foundation is a group of concerned individuals aiming to help improve the lives of marginalized Filipinos. The group believes alleviating poverty in the country can be done by providing educational support, dental and medical assistance, sustainable livelihood programs, as well as promoting environmental awareness to impoverished parts of the country.
TIP's yearly purchase of Charity First's environmental bags for the last three years helped acquire sewing machines for their livelihood program and fund the purchase of medicine for their dental and medical missions all over the country.
About TELUS International Philippines, Inc.
TELUS International Philippines, Inc. is a leading Philippine-based provider of contact center and business process outsourcing solutions. It is a subsidiary of TELUS Communications, a leading national telecommunications company in Canada, with $9.9 billion of annual revenue and 12.3 million customer connections including 7 million wireless subscribers, 3.7 million wireline network access lines, and 1.2 million Internet subscribers. For more information about TELUS International, please visit telusinternational.com.