TELUS International Philippines recognized as a top taxpayer in Quezon City
TIP plays an important role in creating business opportunities and jobs, contributing to the city's economic growth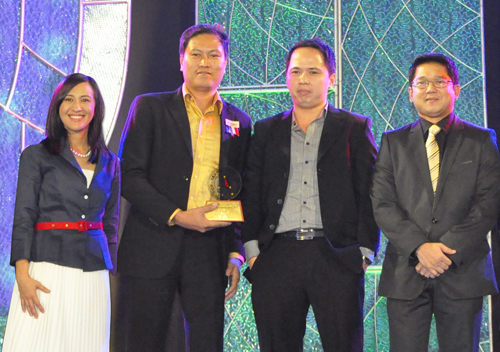 In photo: (second from left) TELUS International Philippines vice-president for Finance Manny Jao and accounting manager Dennis Bocoy (third from left) accept the award from Quezon City Vice-Mayor Joy Belmonte and Mayor Herbert Bautista).
Manila, Philippines – Top call center and outsourcing services provider TELUS International Philippines (TIP) was recognized as one of the top taxpayers in Quezon City. TIP was among the 24 organizations that the Quezon City government honored during the celebration of the city's 72nd founding anniversary.
"We are pleased to be recognized as a top economic contributor in Quezon City.  It is uplifting to know that we are enabling the city's progress so significantly as an employer and a taxpayer," said Javier Infante, TIP president.
Mayor Herbert Bautista and Vice-Mayor Joy Belmonte distributed the award to TIP.  According to Mayor Bautista, companies like TIP play a very important role in creating business opportunities and jobs, thus contributing to the city's economic growth.
Jeff Uthoff, TIP country manager said, "We will continue to support the local government in its endeavors to help improve the lives of its citizens. At TELUS, our philosophy is to give where we live. Quezon City is one of our homes here in the Philippines, and it will always be close to our hearts."
TIP has three sites in the country—Market! Market!, Taguig, Discovery Centre, Ortigas, Pasig and Araneta Center, Cubao, Quezon City—and has been a pioneer outsourcing company in the Philippines.
About TELUS International Philippines
TELUS International Philippines, Inc. is a leading Philippines-based provider of contact center and business process outsourcing solutions. It is a subsidiary of TELUS Communications, a national telecommunications company in Canada, with $10.1 billion of annual revenue and 12.4 million customer connections including 7.1 million wireless subscribers, 3.7 million wireline network access lines, 1.2 million Internet subscribers and more than 400,000 TELUS TV customers. For more information about TELUS International, please visit telusinternational.com.