TELUS International Philippines wins SSS Balikat ng Bayan Award 2011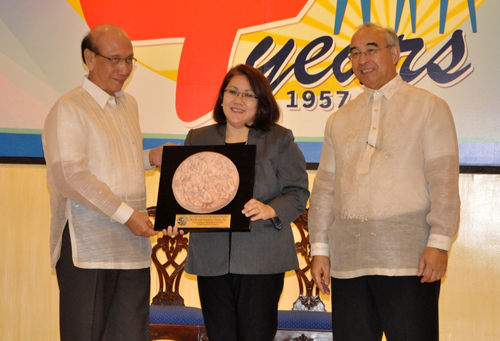 (In this photo: TELUS International Philippines' vice-president of human resources Cris Rosenthal accepts the award from Social Security Commission Chairman Juan B. Santos and SSS President and CEO Emilio S. de Quiros Jr.)
Manila, Philippines – TELUS International Philippines (TIP), a top call center and outsourcing services provider, was named the 2011 Balikat ng Bayan Award winner for Top Employer by the Social Security System (SSS).
The recognition is given to companies who partner with SSS to provide meaningful social protection to their members.  It is a distinction given by SSS to companies, individuals, and organizations who consistently uphold the welfare and well-being of their employees through proper implementation of company protocols such as updating of remittances, regular contributions, coverage, and providing benefits to members.
"We are honored to receive this special award from SSS," TIP president Javier Infante said. "Taking good care of our team members is our top priority. Being recognized for our action among other large organizations reinforces our commitment to making TELUS a truly great place to work."
The award, under National Capital Region (NCR) North division, was given during the 54th anniversary celebration of SSS held at the SSS Building in Diliman, Quezon City.
Cris Rosenthal, TIP's vice-president of human resources, received the award on Infante's behalf. "At TELUS, we value our team members. They are the frontline of our business, and we owe them our success. We are grateful to SSS for recognizing our efforts," Rosenthal said.
About TELUS International Philippines, Inc.
TELUS International Philippines, Inc. is a leading Philippine-based provider of contact center and business process outsourcing solutions. It is a subsidiary of TELUS Communications, a leading national telecommunications company in Canada, with $10.1 billion of annual revenue and 12.4 million customer connections including 7.1 million wireless subscribers, 3.7 million wireline network access lines, and 1.2 million Internet subscribers. For more information about TELUS International, please visit telusinternational.com.