Young chef and businesswoman found 'sweet success' through Global Academy
Success could never have tasted any sweeter for 19-year-old Global Academy Grand Diploma alumna, Chef Angelica Rañeses. She works as a full-time chef at Makati Shangri-La and runs her own small growing baking and pastries business called Geli Deli.
When passion is given an opportunity to flourish, success is bound to occur. For Rañeses, it started out when her mom encouraged her to do what she loves doing. "At a young age, I have always been fascinated with food. That's when my dream of becoming a professional chef started. I find great interest and happiness when I cook. Nothing beats the great sense of fulfillment that I feel when I see a smile in the face of each person I cook for," she says.
Although Rañeses claims to have volumes and volumes of cookbooks, watched hundreds of cooking shows, attended numerous trainings and seminars, and met different renowned chefs, she believes that most of the credit of her success goes to the skills and knowledge imparted to her by her instructors at Global Academy.
Global Academy's faculty members are internationally educated and accomplished. Owned and operated by chefs, Global Academy is revered as the Philippine Culinary Cup overall champions in 2013. It is the first and only school in the Philippines and the seventh in Asia to be recognized by the World Association of Chefs Societies (WACS) for Quality Culinary Education. Global Academy has branches in Makati, Timog, Alabang and Pasig.
"As a neophyte in a five-star hotel kitchen, I faced challenges day in and day out. But these trials were made easy with the kind assistance of my mentors at Global Academy who demonstrated constant guidance," said Rañeses. "I learned how to be strong, determined and self-reliant in the professional kitchen because Global Academy honed me to be the well-rounded chef that I am now."
The beginnings of Geli Deli
At 15, it was no surprise to family and friends when Rañeses decided to pursue a Grand Diploma in Professional Culinary, Baking and Pastry Arts at Global Academy. With a lot of promise, she graduated at the age of 17 in 2012 and was immediately offered a position at Makati Shangri-La where she had completed her internship. But since they could not legally hire her just yet, her employment was postponed until she turned 18.
"Instead of being idle for a year, I decided to make use of my time by experimenting in the kitchen," said Rañeses. "I baked and cooked almost every day and had my friends and family try my creations. When Christmas season came, the news spread that I was making various Christmas-themed goodies."
Soon, orders came pouring in and more people began to inquire about her products. She began receiving invitations to several school fairs, food bazaars and other events to set up her Geli Deli booth.
According to Rañeses, her most in-demand product is her Meringue Cupcake, a chiffon cupcake with a French meringue frosting which has also become a favorite of local celebrities like Carla Abellana and Geoff Eigenmann, musicians like Urbandub, Jimmy Bondoc and international author of the famous book Love and Misadventures, Lang Leav.
Silver Star Recognitions
Since her internship, Rañeses has worked her way up to recognition at Makati Shangri-La as the team captain of the breakfast buffet. She has been recognized with the Silver Star Award for the months of November, December and January.
Due to the demands of her full time job at Makati Shangri-La, Geli Deli remains a home-based business that can be reached at www.facebook.com/TheGeliDeli.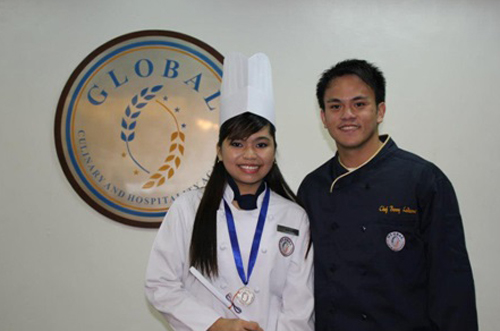 Global Academy Grand Diploma alumna Chef Angelica Rañeses poses with co-founder, CFO and president, Chef Benny Ledesma Jr.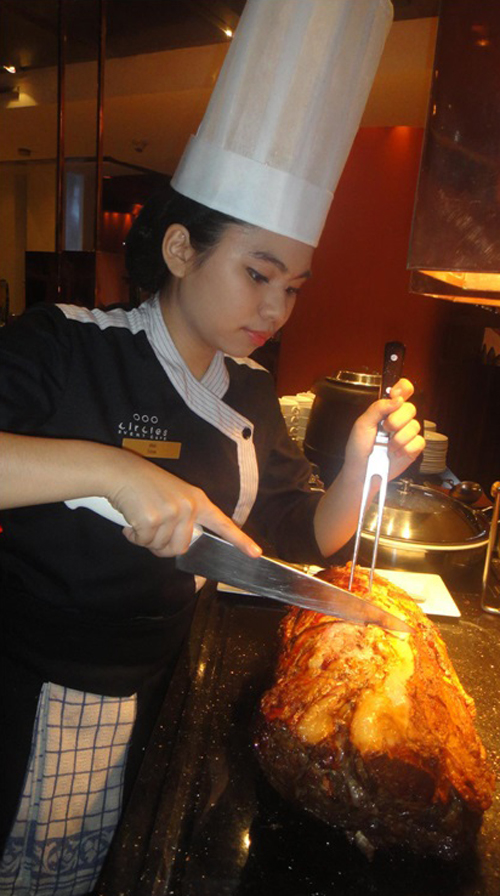 Global Academy Grand Diploma alumna, Chef Angelica Rañeses prepares for the buffet at the Circles Event Café in Makati Shangri-La.
About Global Academy
Global Academy is an award-winning culinary academy recognized for its world-class excellence and competitiveness. The academy offers professional courses for aspiring chefs, pastry chefs and hospitality professionals for affordable tuition fees. As the first culinary school in the Philippines recognized by the World Association of Chefs Societies (WACS), Global Academy is distinguished for its quality education and unmatched culinary standards. For more information, visit http://globalacademyph.com.