Animator showcases Panay, Western Visayas mythology
(Manila, Philippines, October 11, 2013) — There are many ways to tell a story. For artist Liby Limoso, mythology is best illustrated through animation. In his mission to promote Philippine indigenous culture, Liby chose animation to be his creative medium.
"We need to tell our own stories," says Limoso, whose study on Sugidanun served as the basis for the Panay Sugidanun HD campaign that aims to preserve this ancient tradition through art forms. Sugidanun is a set of epic myths that originated from Panay and the neighboring islands of Western Visayas. "Nothing else captures the magic and fantasy of Sugidanun than animation."
The Panay Sugidanun HD campaign is an initiative led by Limoso, which aims to document and promote the 10 major narratives and three minor sub-stories of Sugidanun through the use of new media and innovative narration while preserving the essence of the epic.
"Animation is a powerful medium. I want this to be an instrument of change that would bring us better understanding of our language, places, identities and memories," asserts Limoso.
Limoso's first attempt at animation was during his first year as a Fine Arts major in the University of the Philippines-Diliman, where he showed a simple motion of Boticelli's "Birth of Venus." Although time consuming, he believes that animation shouldn't be costly. One type of animation, Mixed Media, can be done with simple materials and a video camera. "Everyone has to start somewhere," declares Limoso.
Growing up in a farming village, Limoso prides himself as a product of the country's public school program. He first appreciated animation as an artform when he was a child. He was inspired by watching cartoons on TV and movies, and learned to make movies with computer graphic images. These sparked his interest in animation and visual arts and led him to pursue a career in this field.
"With proper planning, program and education, the Philippines can make a great impact as a leading outsourcing destination for animation services. But more importantly, the Philippines can also be known as a producer of original content with universal appeal," says Limoso.
Limoso emphasizes the importance of education and training for Filipino talent. Collaborative programs with countries that are known for their animated content such as Canada, Japan, and Korea are necessary to update the country's educational curriculum and training programs.
According to Limoso, artists should have innate characteristics that will help them with their craft although there are external factors that can contribute to the success of the Philippine industry. He said that an artist should have keen attention to details and should know how to tell a good story. One should also have good work habits when working alone while one should be at his or her best when the job calls for teamwork.
"Filipinos have great patience so we work a lot more on outsourced projects. We should learn from it but we must not forget to spend time on producing original works. Only then can we see where we are going in the near future," stresses Limoso.
A visionary on his own, Limoso will be one of the resource speakers for "Animahenasyon 2013: 7th Philippine Animation Festival" on November 19 to 22 in West Visayas State University in Iloilo City. Organized by the Animation Council of the Philippines, Inc. (ACPI), the event will gather industry players and stakeholders with shared interests, needs and aspirations as they exchange ideas, lessons and plans for the animation industry.
"I'm sure these efforts will one day lead to great things and actions beyond our expectations. I look forward to meeting animation people, producers and studios who would want to work with Sugidanun or themes similar to Sugidanun," concludes Limoso.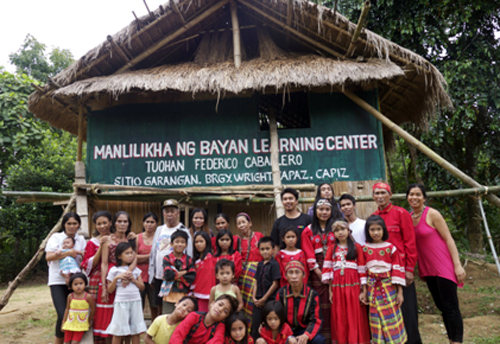 Animator Liby Limoso (back row, fifth from right) with the members of the Panay, Bukidnun indigenous community. Their ancestors were the last living chanters of the Panay Sugidanun epics.
About the Animation Council of the Philippines, Inc.
The Animation Council of the Philippines, Inc. (ACPI) is a non-stock and non-profit organization whose member companies specialize mainly in, but not limited to, either 2D or 3D animation. It is an organization recognized and supported by the Philippine government whose aim is to nurture our passion for animation and to be central to the growth of the Philippine animation community.
ACPI is a partner association of the Information Technology and Business Process Association of the Philippines (IBPAP).
About the Information Technology and Business Process Association of the Philippines (IBPAP)
The Information Technology and Business Process Association of the Philippines (IBPAP) is the enabling association for the information technology and business process management (IT-BPM) industry in the Philippines. IBPAP serves as the one-stop information and advocacy gateway for the industry. With approximately 300 industry and support-industry members, including five associations—the Animation Council of the Philippines, Inc., Contact Center Association of the Philippines, Game Developers Association of the Philippines, Healthcare Information Management Outsourcing Association of the Philippines, and Philippine Software Industry Association—IBPAP plays a pivotal role in sustaining rapid growth of the IT-BPM industry by working to ensure an enduring supply of high-quality labor, supporting service innovation, and providing country visibility.
IBPAP assists investors in setting up operations easily and quickly in the Philippines. Relevant research, introductions to key government and industry officials, and a series of briefings at each step of the investment process ensure a seamless development process. Ongoing support is provided through a wide variety of initiatives, including programs for HR development, business development, knowledge sharing, and networking opportunities.