Bikram yoga shapes Ironman triathletes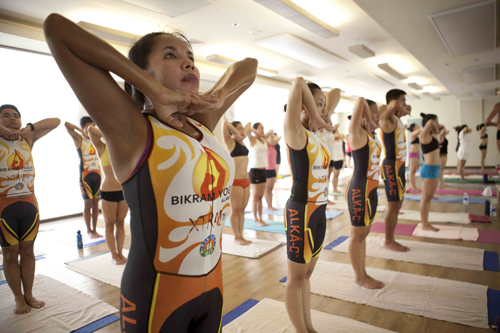 Photo: Bikram Yoga Alabang XTRM Triathlon member Celma Hitalia does Pranayama, or Standing Deep Breathing, the first breathing exercise in Bikram yoga's 26-posture series. Hitalia, who calls herself a "late bloomer athlete" finished this year's Ironman 70.3 in Cebu, landing second in running, fourth in biking and sixth in swimming in her age category.
Triathlon trainings are composed of strenuous routines aimed at developing a tough body that can withstand long hours worth of swimming, biking and running. But a key to stronger endurance lies not only in such intensive workouts, but also in 90 focused minutes of stretching poses.
Bikram Yoga Alabang XTRM Triathlon members Elmer Ching and Celma Hitalia infused Bikram yoga in their rigorous training to brave this year's Ironman 70.3 Philippines race in Cebu. This year's edition brought an extra challenge, being the first time triathletes swam in an open water after three years of racing in a man-made lake.
Elmer has always been an active youth. He played basketball and soccer, camped in mountains with his brother and even took an interest in jiu-jitsu. When he first started running, it was mainly to lose weight to fit into a weight rank in jiu-jitsu. Then he fell in love with it. He eventually got into multi-sports and set his eyes on this year's Ironman.
Problems such as injuries and tight muscles became common for Elmer. "Biking and running hit the legs a lot," he said. He discovered that Bikram yoga kept his muscles in top shape and reduced the chances of injuries. The Triangle or Trikanasana pose, in particular, allows one to stretch out and heal strained muscles from high-impact activities. "People usually think stretching is just about reaching for your toes and bending, but stretching is really an internal massage for the muscles," Elmer said. "I realize a lot of benefits from having my muscles fully recovered after each [Bikram yoga] session."
Celma, on the other hand, calls herself a "late bloomer athlete." Even so, she has been a constant podium finisher in running, dual-sports and multi-sports. She started playing tennis in 2003, switched to badminton and finally got into running in 2009 with the goal of finishing the Ironman 70.3 in 2011. This year, she landed second in running, fourth in biking and sixth in swimming in her age category.
It was the Awkward or Utkatasana pose that eased Celma's iliotibial band syndrome (ITBS), a common knee injury associated with her sport. This pose, which resembles sitting on a chair but on toes, helped her stretch her hamstrings and improved her knee strength. "Doing yoga helps you overcome so many challenges," said Celma.
Bikram yoga isn't only a supplemental physical activity for athletes. Enduring the postures is a mental process, said Elmer. He recalled Frank, an instructor at Bikram Yoga Alabang, saying that pain is just another part of life; it's just another feeling, like being tickled. This inspired Elmer to endure the series of challenging postures in a room heated to roughly 40 degrees Celsius.
Cycling, the longest part of a triathlon, comes with pressure on the spine that forces athletes to bend forward for long periods of time. The Camel or Ardha-Kurmasana pose—a full backward bend— helped Elmer recover from this particular strain. For swimming, the Half Moon or Ardha-Chandrasana pose is quite effective as it elongates the body through upward stretching and bending from side to side. Its importance lies in boosting endurance as swimmers wade through the water stretch.
In competitive sports, it can be hard to get motivated, especially for beginners. The Ironman is not just the formidable marathon traversed in 70.3 miles without breaks. There are challenges that limit the maximum potential of an individual's physical and mental capabilities. And there's always going to be someone determined to outdo your efforts. But constant podium finisher Celma puts it in perspective: "I always compete with myself, with my times. Your aim should be to surpass your previous times. It shouldn't be to surpass other athletes. Otherwise, you'll just end up frustrated. The podium is just a bonus."
About Bikram Yoga Alabang
Bikram Yoga Alabang is a certified, state-of-art Bikram Yoga studio located at the 2 nd Floor, Commerce Center, Commerce Ave., Filinvest Corporate City, Alabang, Muntinlupa City.
Bikram Yoga involves a series of 26 postures and two breathing exercises performed inside a heated studio (40ºC). The postures are designed to promote balance, strength, physical health, and mental well-being.Students at Bikram Yoga Alabang are taught by a team of licensed instructors led by studio director Ginger Diaz. For inquiries, call 8465496 and 09279169909 or send an email to bikramyogaalabang@yahoo.com. You may also visit the Bikram Yoga Alabang website at www.bikramyogaalabang.com.
Be a fan on Facebook: www.facebook.com/bikramalabang.
Follow us on Twitter: @bikram_alabang.