'My Dream in a Shoebox' shares blessings with Aurora province
(Baler, Aurora, February 20, 2013) — Just a few days before Valentine's Day, computers and shoeboxes filled with school supplies were distributed to schools in Aurora province as part of the "My Dream in a Shoebox" campaign led by the Business Processing Association of the Philippines (BPAP) and TeamAsia in partnership with the Department of Education (DepEd).
Hosted by DepEd Aurora, the occasion marked the final turnover of the campaign's fourth run. Sen.  Edgardo Angara, who was unable to make it to the ceremony because of a previous commitment, said in a statement, "I am absolutely delighted with the help that BPAP and TeamAsia presented to 20 schools in Baler, Casiguran, Dilasag, Dinalungan, Dingalan, Dipaculao, Maria Aurora and San Luis. These schools will receive personal computers useful to both students and teachers, helping in our goals to enhance education in our province."
According to Senator Angara, access to education is still a major problem in the province. Compared with the nation as a whole, only a small percentage of children in Aurora are able to enroll and study. He added that although few enter school, their likelihood to finish education is higher than other provinces.
"We're very glad to be the catalyst in making the dreams of the school children in Aurora come true. These computers are just the beginning," said Genny Inocencio-Marcial, BPAP Executive Director for External Affairs. She promised to come back with more shoeboxes and computers, determined to reach more schools in Aurora province.
A major sponsor of computers for the "My Dream in a Shoebox" campaign, One Meralco Foundation also attended the turnover ceremony in Baler. Joane Sotto, speaking on behalf of the foundation, said, "One Meralco Foundation believes in the ability of our teachers. Without them, there will be no officers, no doctors, no engineers, and no lawyers in our country. Our hearts are grateful to the teachers for their dedication and sacrifices for the youth to become good citizens of the Philippines."
A total of 12,533 shoeboxes have been collected and distributed all over the Philippines with the help of the Armed Forces of the Philippines and other partner organizations last Christmas season.
"Although it has been a successful year of gift-giving, there are still so many more children to reach so our mission doesn't end here," said TeamAsia founder and president Monette Iturralde-Hamlin. "We're looking forward to another promising year of driving positive change through the education of the Filipino children."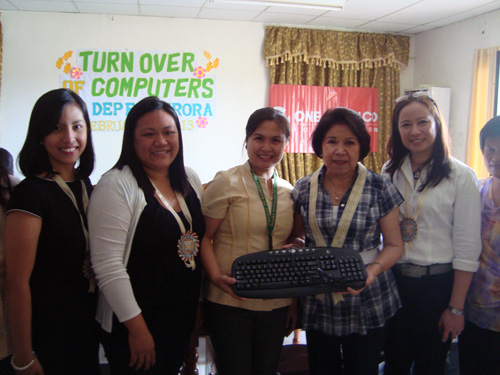 BPAP and TeamAsia turned over computers to schools in Aurora province as part of the "My Dream in a Shoebox" campaign. Photo shows (from left): TeamAsia Marketing Director Jan Baybay; One Meralco Foundation representative Joane Sotto; San Luis Central School Principal Anie B. Glemao; Aurora Governor Bellaflor Angara-Castillo; and Business Processing Association of the Philippines Executive Director for External Affairs Genny Inocencio-Marcial.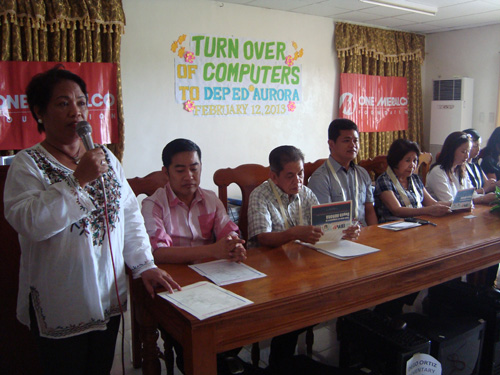 Educators, local government leaders and representatives from BPAP, TeamAsia, and One Meralco Foundation gather at the Department of Education (DepEd) Aurora for the turnover of computers collected during the fourth run of "My Dream in a Shoebox" campaign.
About TeamAsia
TeamAsia is an award-winning strategic marketing communications firm that develops place, corporate, and personal brand strategies, creative concepts, and marketing communications programs and campaigns incorporating events, public relations, and online marketing tools for its clients. Its core businesses include design services; public relations, editorial, copywriting, and SEO services; media relations; event management; online campaign management; and web development. The agency also offers workshops and seminars primarily related to its core communications businesses.
About the Business Processing Association of the Philippines
The Business Processing Association of the Philippines (BPAP) is the enabling association for the IT-BPO and GIC (global in-house center) industry in the Philippines. BPAP serves as the one-stop information and advocacy gateway for the industry. With approximately 300 industry and support-industry members, including five associations—the Animation Council of the Philippines, Contact Center Association of the Philippines, Game Developers Association of the Philippines, Healthcare Information Management Outsourcing Association of the Philippines, and Philippine Software Industry Association—BPAP plays a pivotal role in sustaining rapid growth of the IT-BPO and GIC industry by working to ensure an enduring supply of high quality labor, supporting service innovation, and providing country visibility.
BPAP assists investors in setting up operations easily and quickly in the Philippines. Relevant research, introductions to key government and industry officials, and a series of briefings at each step of the investment process ensure a seamless development process. Ongoing support is provided through a wide variety of initiatives, including programs for HR development, business development, knowledge sharing, and networking opportunities.