Filipino technopreneurs take on global challenges
PSIA brings together the best in talent, resources to foster and scale up IP and software production in the country
(Manila, Philippines, September 26, 2013) — Homegrown technopreneurs are making waves in the software industry, collectively working toward sustained development of intellectual property and software production, according to Joey Gurango, president of the Philippine Software Industry Association (PSIA) and CEO of Gurango Software Corporation.
"You only get big or bigger in software services," Gurango said, highlighting the impact of information technology (IT) and software across industries, from media and communication to health care and transportation. "Change happens so quickly. There are always new opportunities around the corner."
However, many start-ups will experience difficulty taking their business to the next level. Having a technopreneur mentor will help them move forward, by providing access to expertise and capital, among others. "We lack a 'Cinderella story' in the Philippines," said Dale Dennis David, founder of Pickld, and CEO and creative director of Team O.P.S, a mobile apps and game development company. "And for that, you need a big idea, a good execution team, and the support of a community or network. The Philippines has all the necessary ingredients, thanks to PSIA."
Companies like ICPA, Taguto, and Codetoki are receiving valuable expert mentorship from the Software PRoducts Incubation Group (SPrInG.PH), a project of PSIA which began in August 2011 and was co-founded by the CEOs of Gurango Software Corporation, BlastAsia, Computer Professionals, and Seer Technologies. SPrInG.PH supports members through the development of business plans and product pitching to foreign venture capital. The group also sets up marketing subsidies for companies with market-ready products, and establishes partnerships with software vendors, infrastructure providers, communications providers, and groups.
To highlight the local industry's capability in product development and software services, PSIA will be featuring sessions on technopreneurship and start-ups in its upcoming Softcon.ph, the first Philippine software conference where software megatrends will be discussed and presented to industry players and stakeholders. This year's conference, entitled "Cloud + Mobile +Social + Big Data, Monetizing the Software Megatrends," will be held October 10 at the Dusit Thani Hotel, Makati City. Softcon.ph will also be the culmination of PSIA's year-long celebration of its 25th anniversary.
"Revenge of the nerds"
In college, Gurango recalls that he and his friends spent most of their time in the computer lab. Fast forward to the present, Gurango and the rest of their group now head their own software companies. "This is the revenge of the nerds, because now, nerds rule," Gurango said. Gurango Software Corporation provides business software solutions to various enterprises using Microsoft technologies.
Today, these "nerds" are steering the Philippine IT and software development industry, which earned US$1.16 billion and employed 60,000 software engineers and IT professionals in 2012. By 2013, PSIA projects revenues to reach US$1.5 billion, with employment at 80,000.
"We are privileged to be guided by experienced technopreneurs that continuously help us refine and improve our innovations," said Honeylyn Balingcasag of Codetoki, an online learning platform that helps IT students and fresh graduates build their portfolio according to the requirements of their potential employers. Balingcasag is also co-founder of Bootyard Inc., a Ruby on Rails development and design shop, and a member of the launchpad team of SPrInG.PH.
In a recent trade mission to Singapore, PSIA member-company e-Button was hired on the spot when a delegate requested them to develop an emergency response mobile application similar to 911 in the United States.
Another milestone is the eCourt program of the Supreme Court of the Philippines, developed by local software firm Ideyatech, Inc. eCourt is an electronic end-to-end case management system that responds to the country's need for an automated and modernized judicial system. "That should give us a sense of what our talent can do," says Alvin Genrado, chair of the membership and ethics committee of PSIA and director of developer and platform evangelism of Microsoft Philippines.
"There are unlimited business opportunities in the Philippine software and IT services industry. Technopreneurs should have the ability to seize the moment. We are so excited for the the birth of more start-up companies, and globally successful innovations that PSIA will foster in the next 25 years," Gurango said.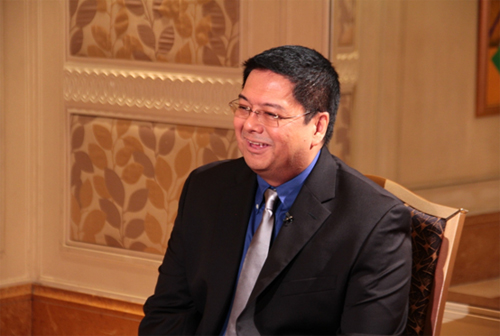 "This is the revenge of the nerds, because now, nerds rule," said Joey Gurango, PSIA president and CEO of Gurango Software Corporation.
About the Information Technology and Business Process Association of the Philippines (IBPAP)
The Information Technology and Business Process Association of the Philippines (IBPAP) is the enabling association for the information technology and business process management (IT-BPM) industry in the Philippines. IBPAP serves as the one-stop information and advocacy gateway for the industry. With approximately 300 industry and support-industry members, including five associations—the Animation Council of the Philippines, Inc., Contact Center Association of the Philippines, Game Developers Association of the Philippines, Healthcare Information Management Outsourcing Association of the Philippines, and Philippine Software Industry Association—IBPAP plays a pivotal role in sustaining rapid growth of the IT-BPM industry by working to ensure an enduring supply of high-quality labor, supporting service innovation, and providing country visibility.
IBPAP assists investors in setting up operations easily and quickly in the Philippines. Relevant research, introductions to key government and industry officials, and a series of briefings at each step of the investment process ensure a seamless development process. Ongoing support is provided through a wide variety of initiatives, including programs for HR development, business development, knowledge sharing and networking opportunities.
About the Philippine Software Industry Association (PSIA)
The Philippine Software Industry Association, a partner association of the Information Technology and Business Process Association of the Philippines, is the premier organization of at least 160 companies engaged in software development and IT services outsourcing. It promotes the growth and global competitiveness of the Philippine software industry. For more information on PSIA's activities and projects, visit www.psia.org.ph.