IBPAP to build stronger workforce through industry-academe partnership
(Manila, Philippines, November 8, 2013) — The Information Technology and Business Process Association of the Philippines (IBPAP) welcomed Genpact, Pricing Administration Center of American President Lines (PAC-APL), and Laguna State Polytechnic University (LSPU) as its first industry and academe partners for the Service Management Program (SMP) in a memorandum of agreement signed recently.
SMP is a 21-unit specialized course for students pursuing careers in business administration, management or in information technology.  Developed by IBPAP and the Commission on Higher Education (CHED), SMP is designed to cultivate the skill sets needed by the students for an entry-level position in the fast-growing IT-BPM industry.
IBPAP chairman and Genpact country manager Danilo Reyes acknowledged the support of LSPU in the program. "The signing of this MOA marks another milestone in strengthening the industry through a solid partnership with the academe," said Reyes. "As we take another step toward our goals of achieving employment for 1.3 million Filipinos in 2016, we will continue to strengthen our pathways for a more sustainable growth."
PAC-APL, one of the world's leading ocean container, shipping, and transportation companies, believes that people drive its success. "We have state-of-the-art vessels and great applications but we must have people to execute those transactions, manage the systems, and make the right decisions," said PAC-APL managing director Aaron Key II. "We look forward to the university providing us with the best people that our company needs." PAC-APL also donated computers to LSPU.
Currently, LSPU houses IBPAP-certified SMP trainers who facilitate some of the course electives, as well as the Basic English Skills Training (BEST) and Advanced English Pre-employment Training (AdEPT) language tracks in their campuses at Siniloan, San Pablo, Santa Cruz, and Los Baños. According to data from LSPU, over 1,000 students have signed up for these electives
Dr. Nestor De Vera, LSPU president, expressed the university's goal in striving to equip their students with the proper competencies needed for a career in the IT-BPM industry. "That is what we want—to produce the best graduates in our university," Dr. De Vera said.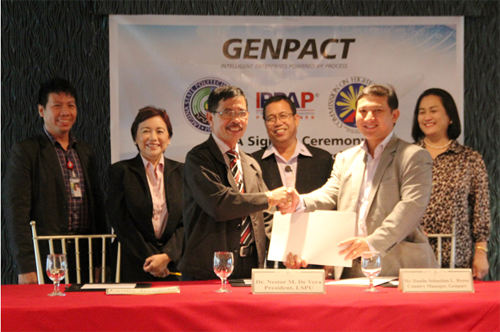 (Front row) Laguna State Polytechnic University (LSPU) president Dr. Nestor De Vera and Genpact country manager and IBPAP chairman Danilo Reyes seal the first industry-academe SMP partnership between Genpact and LSPU. The ceremony was also graced by (back row, from left) LSPU Dean Joel M. Bawica; IBPAP Executive Director for Talent Development  Penny Bongato; LSPU VP for Academic Affairs Dr. Mario C. Pasion; and Genpact VP for Human Resources Irene Roa.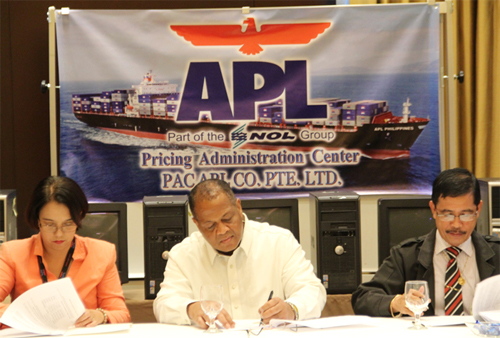 Photo shows (from left) PAC-APL Manager for Rate Management Systems Dinia Z. Ramirez; PAC-APL Managing Director Aaron Key II; and Laguna State Polytechnic University (LSPU) President Dr. Nestor De Vera signing the SMP memorandum of agreement between PAC-APL and LSPU.
About the Information Technology and Business Process Association of the Philippines (IBPAP)
The Information Technology and Business Process Association of the Philippines (IBPAP) is the enabling association for the information technology and business process management (IT-BPM) industry in the Philippines. IBPAP serves as the one-stop information and advocacy gateway for the industry. With approximately 300 industry and support-industry members, including five associations—the Animation Council of the Philippines, Inc., Contact Center Association of the Philippines, Game Developers Association of the Philippines, Healthcare Information Management Outsourcing Association of the Philippines, and Philippine Software Industry Association—IBPAP plays a pivotal role in sustaining rapid growth of the IT-BPM industry by working to ensure an enduring supply of high-quality labor, supporting service innovation, and providing country visibility.
IBPAP assists investors in setting up operations easily and quickly in the Philippines. Relevant research, introductions to key government and industry officials, and a series of briefings at each step of the investment process ensure a seamless development process. Ongoing support is provided through a wide variety of initiatives, including programs for HR development, business development, knowledge sharing, and networking opportunities.