For the long haul: 40-year LBC veteran shares how the company moved her life
Employee loyalty is something of a rarity these days, a characteristic that is not often found because of the growing complexities of the business landscape and the needs of today's employees. But loyalty is a two-way street: If employers reward loyalty, they won't have to search high and low for trustworthy workers.
LBC Express Inc., the country's leading payments, remittance, courier products, mail, parcels, and cargo logistics provider, knows this. Just like the care that it provides customers by moving the padama in every padala through its global presence of 46,400 branches, partners, and agents in 30 countries, LBC prides itself in taking care of its employees and making sure they're happy on the job.
This happiness and satisfaction shows in 62-year-old Primetiva Patiño, a Team Leader at a branch in Cebu. Fondly called 'Nay Remy' by colleagues, she has been working for LBC for 40 years now, and she wants to continue working for the company until her retirement in three years.
Nay Remy hails from South Cebu. When she was six, her family relocated to Davao and she lived there until she finished college. After earning a degree in BS Accountancy, she returned to Cebu with hopes that she would land a job in her hometown. While studying for her board exams, she encountered an opportunity that would change her life.
"I was reviewing for my Public Accountancy certification," Nay Remy shares. "A friend of mine told me that there was an opening at LBC. It was too wonderful an opportunity to pass up so I decided to apply immediately," she said.
She was hired in 1975 as an accounting clerk at one of LBC's offices in Cebu. In 1983, she was transferred to sales in the first airpost that opened in Coron, Palawan. During her stint in sales, her department always hit the quota. She remained at the Coron branch until 2000.
Seven years later, she was transferred back to delivery as Team Leader, a position she still holds today. She is currently the Team Leader of the Cebu Processing Team, which handles customer support.
To this day, she enjoys her job and it's something she wouldn't trade for anything. She didn't even expect she would be this happy. All Nay Remy wanted was a job that paid well and was stable. "For most employees a company's stability is really important, and that's what I saw in LBC. Working for the company gave me assurance that I won't lose my job as long as I worked hard."
"This was especially true when my husband and I had our son, Joaguin. I had to make sure there was always food on the table, that there's a house we can always go home to, that my son would be able to finish school."
Nay Remy said that her son made her job with LBC more important. This has been the driving force behind her four decades working for the company. "I've always been honest and hardworking. From my first day until today, I haven't violated any of the company's rules and I haven't heard my managers complain about my performance."
A few years after Joaguin was born, she was offered an option for early retirement. However, she didn't want to end her long-running career in the company just yet, so she declined the offer. "I got so accustomed to working with the company and leaving it would really be a big change in my life. It was a change I knew I wasn't prepared for."
Nay Remy considers LBC a defining aspect of her life. Being with the company for 40 years, she has witnessed the company through transitions and brand transformations. And in those 40 years, she was also able to buy a small house and send her son to a reputable school. "We were able to live a good life and I'm not sure if I would be in the same place if it were another company. To tell you the truth, I'm really happy and content with what I have right now."
She is an example of a happy and satisfied employee, the result of a warm environment that LBC has fostered through the years. For the company's efforts in giving her a life of peace and contentment, Nay Remy said she plans to live out the rest of her tenure with the same energy and enthusiasm that she had when she started in 1975. Until the day she retires, she will give her best in helping the company strengthen its commitment to move the padama in every padala.
"I don't know where I will be right now or if I would even live like this if the company didn't give me the wonderful opportunity for employment. So I know it would be too early to say this but, thank you very much LBC for these wonderful years."
For more information on LBC, please visit http://www.lbcexpress.com; or call the following hotlines: 8585-999 (Metro Manila), 1-800-10-8585-999 (Provincial).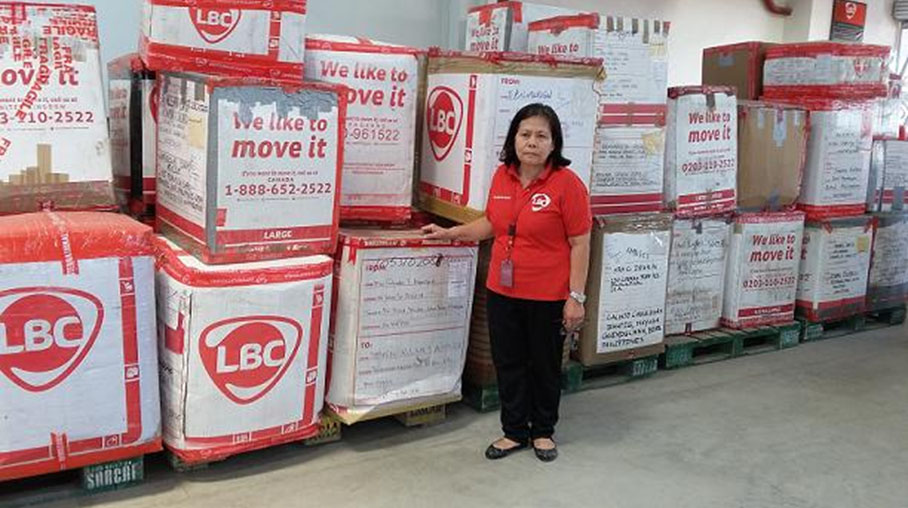 "Nay Remy", as she is called by her colleagues, is responsible for making sure that balikbayan boxes are delivered to their destinations on time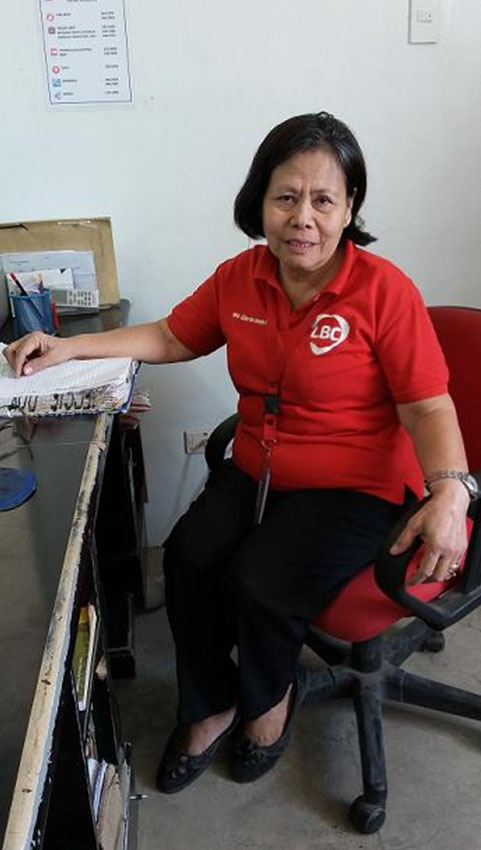 Part of Nay Remy's responsibiliities as Team Leader is to keep track of deliveries
LBC Express, Inc. is the Philippines' market leader in payments, remittance, courier products, mail, parcels and, cargo logistics. Through a global presence in over 30 countries in Asia-Pacific, North America, the Middle East and Europe, LBC Express' network of 4,400 locations, partners, and agents is growing steadily, and commits to moving lives, businesses, and communities in the Philippines and across the globe. Founded in 1945 as a brokerage and air cargo agent, LBC Express pioneered time-sensitive cargo delivery and 24-hour door-to-door delivery in the Philippines. Today, it is the most admired and trusted courier, cargo, and remittance service of millions of Filipinos, an iconic and global Filipino brand. LBC can move it for you: visit us at www.lbcexpress.com, or call telephone +632 8585 999 (Metro Manila), 1 800 10 8585 999 (Provincial), and follow LBCExpress (Facebook and Twitter).