Mother's love brings son closer to his dreams
(Manila, Philippines, May 9, 2013) — The true test of a mother's unconditional love is seen in the face of great challenges. For a mother like Herminia Katigbak, this means overcoming the odds to secure a better future for her children.
"Ang totoo po kasi, kami po ay mahirap lang. Kaya mahirap din sa aming isipin na makakapag-college pa siya (Because we are poor, it's difficult for us to think about my child going to college)," Hermina shared as she stood in front of hundreds of students and their parents who learned of her brave sacrifice and hope for her beloved sons.
Raising two sons alone with her small salary from working as a household helper in Valenzuela City, Herminia was close to abandoning all hope of providing a college education to her eldest son Ervien. In a move to cut back on their expenses, she left her youngest child in Ilocos with their relatives. She also thought of sending 15-year-old Ervien there when he finished junior year. By then she felt unable to fully support his schooling through her meager salary.
Renewed hope
Despite this, Ervien continued to perform well academically. His teachers from Maysan High School did all they could to support him on his studies, and one of them even generously offered Ervien a place to stay during his senior year.
As graduation drew near, Herminia's anxiety over her son's plans in continuing his education grew worse. Seeing her son's aggressiveness in climbing the ladder of success added more to the fear of telling him that she could not send him to college.
"Nung sinabi niya po na gusto niyang mag-college, hindi ko alam kung paano ko sasabihin na hindi ko kayang suportahan siya (It was hard for me to tell him that I won't be able to support him through college since I can see that he really wants to go to school)," she said. By then, Ervien had already graduated as high school valedictorian. Herminia assumed a high school diploma would be the end of his son's education.
It seemed that Ervien would be one of the many high school graduates who will not be able to make it to college this year due to financial difficulties. Good news came merely a few weeks after his graduation. All of Herminia's fears vanished when she received a call from SM Foundation informing her that her son was accepted into the SM College Scholarship Program.
Leaving the past behind
Ervien, now an incoming BS Accountancy student at the University of East Caloocan, shared his motivation in pursuing his dreams. "I want to bring my family out of poverty," he said. "I want us to be able to move forward and leave our past lives behind."
SM Foundation's education efforts through the SM College Scholarship Program give Filipino families a fighting chance to overcome poverty by sending one of their members to college.
In the signing of contracts last month, the 17th batch of the SM College Scholarship Program drew a total of 340 new scholars for the coming school year. One hundred seventy scholars hailing from all over NCR and nearby provinces attended the signing at the SMX Convention Center while others signed up for their scholarships in selected SM Malls nationwide.
During the occasion, Herminia expressed her gratitude to SM Foundation. "Laking pasasalamat ko po talaga sa SM Foundation, kasi kung hindi dahil sa kanila, hindi makakapag-college ang anak ko (I am thankful to SM Foundation because if it wasn't because of them, my son wouldn't be able study in college).
Marking its 20th year, the SM College Scholarship Program continues to provide education to bright underprivileged students in the country. The program covers the scholars' tuition fee, miscellaneous fees, monthly allowance and also offers an opportunity to work at SM Malls during summer and Christmas breaks.
The SM College Scholarship Program began with only 22 scholars in 1993. To date, it has produced 1,500 graduates who have all joined the mainstream in practicing their expertise. "We would like to bring this to the attention of the many young men and women out there who are wishing, dreaming and passionately yearning to acquire college education as a means to get their families out of poverty," said Linda Atayde, SM Foundation executive director for Education.
"SM Foundation believes in finding more ways to help our less fortunate brothers and sisters," Atayde added. "These students have made it this far, now we at the SM College Scholarship Program hope to take them further."
A good education is a right that many young Filipinos still struggle for. Through the work of SM Foundation and its many projects and programs, the best and brightest youth have a real chance at realizing their potential and turning their dreams into reality.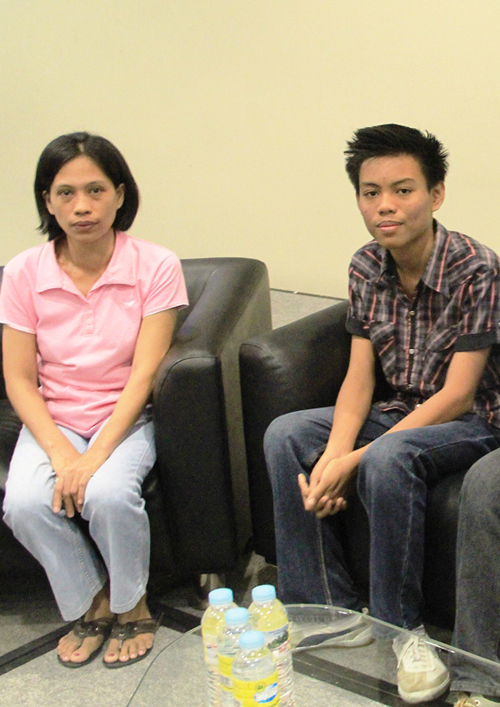 Mrs. Herminia Katigbak and son, SM Scholar Ervien Katigbak, share their story with the incoming SM College scholars and their parents
About SM Foundation
SM Foundation is the socio-civic arm of the SM Group of Companies through which it helps the less fortunate in the communities it serves. The Foundation has four areas of advocacy: education through scholarship programs and donation of school buildings; health through medical missions, mobile clinics, and establishment of wellness and health centers; livelihood and community development; and the conduct of relief operations to victims of calamities. The Foundation intends to serve more communities as SM builds more malls around the country.