Pinoy Wins Google's First Global Map Maker Competition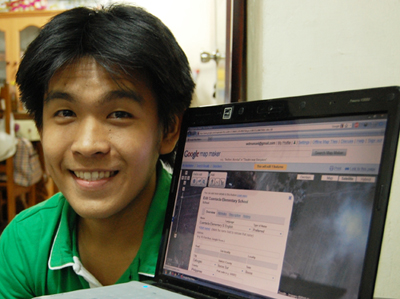 March 2, 2010, Manila, Philippines – Google recently announced that Filipino Wayne Dell Manuel has won the company's first Google Map Maker Global Competition, which encouraged users around the world to map universities, schools and hospitals in their home countries to help humanitarian organizations do their jobs better. Manuel bested more than 700 other contestants from around the world to win a US$50,000 donation from UNICEF for the Philippines. The donation will benefit projects that empower Filipino youth through technology.
The Google Map Maker Global Competition was launched to encourage the use of technology for community development by asking users to map universities, schools, hospitals and medical clinics in their home countries. The goal was to help humanitarian organizations better deliver services, respond to crises, and adapt to change in the countries they operate by enabling access to accurate digital maps. Entries were judged based on the quality and quantity of map edits and moderations.
Manuel added more than 1,500 qualifying map features and made hundreds of moderations in Google Map Maker to win the competition. His edits, which were primarily of local public schools, were judged to be the most numerous and accurate entries in the contest. Wayne hoped that mapping these schools, many of which also serve as evacuation centers during natural disasters, could help relief organizations centralize and distribute aid to displaced persons during calamities.
"I'm so excited to have won this global competition because it represents a win not just for me, but also for the Philippines," said Manuel. "To be frank, I entered the competition to win the US$50,000 for our country, and I hope that my win encourages more Filipinos to contribute to making the online map of our country even better. We Filipinos are known for our spirit of bayanihan, and this is a great way for us to come together in the Internet era to make life better for our fellow kababayans by literally putting their communities on the digital map."
"We heartily congratulate Wayne Manuel for winning the first Map Maker Global Competition," said Jennifer Mazzon, Community Organizer for Google Maps. "His contributions to the Philippines' online map are invaluable to everyone who relies on it for geographic information, from tourists and everyday commuters, to rescue and relief organizations who respond to natural disasters, as we saw in the aftermath of Typhoon Ondoy last year. Even though the contest period is over, the mapping effort for the Philippines is only beginning. There are still many places that are in need of accurate details and we hope that even more Filipinos will use Google Map Maker to share their knowledge about their hometowns with the world."
"We are delighted that Google is supporting UNICEF's efforts to help build a world fit for children," said Gerrit Beger, leader of UNICEF's innovation drive focusing on youth. "We know that mapping is a proven method to enhance community development. Google Map Maker is a powerful tool to create better situational awareness for both young people and communities at large. It will enable organizations like ours to better deliver services, respond to crises and adapt to change."
Manuel himself will receive a VIP tour from UNICEF officials of the projects that will benefit from the US$50,000 donation.
Pinoy spirit and passion puts the Philippines on the map Manuel, who turns 24 this March, is a software developer at the National Telehealth Center of the University of the Philippines. He started using Google Map Maker in 2008 and initially edited streets, establishments, and municipalities in his hometowns of Tuguegarao and Baguio City. Later, he added most of the roads in Tarlac City, Tarlac; Angeles City, Pampanga and Tacloban City, Leyte. He has been recognized globally as one of the top 10 all-time mappers with nearly 35,000 map edits under his belt.
"Maps have always interested me because they help me get acquainted with places I've never seen before," Manuel explained. "As soon as I heard about Google Map Maker, I immediately joined and found that its interface is very intuitive and user-friendly. I love the feeling of putting together something that would be useful to many people."
Manuel says that he will continue editing in Google Map Maker even after the competition because there are still many unmapped areas in the Philippines. He also recalls how fulfilling it was to see his contributions help many people, specifically when Typhoon Ondoy hit the country. "After Ondoy, a volunteer group used Google Maps to map distress calls and facilitate rescue operations. I was so happy to see that the roads I helped place on Google Map Maker, later pushed to Google Maps, were used to locate fellow Filipinos who needed help."
About Google Map Maker
Google Map Maker (www.google.com/mapmaker) is an easy-to-use web tool that allows anyone to become "citizen cartographers" by locating, drawing, and labeling map features– anything from points of interests like schools, to entire roads and cities–online. It relies on peer moderation to ensure the accuracy of the edits. The tool is most useful for countries like the Philippines that lack accurate map data, although users can edit maps using the tool in 175 countries across the globe. Since Google Map Maker was launched locally in October 2008, Filipinos have contributed hundreds of thousands of edits to the online map of the Philippines, in some cases even mapping entire cities that never existed digitally before.
About Google Inc.
Google's innovative search technologies connect millions of people around the world with information every day. Founded in 1998 by Stanford Ph.D. students Larry Page and Sergey Brin, Google today is a top web property in all major global markets. Google's targeted advertising program provides businesses of all sizes with measurable results, while enhancing the overall web experience for users. Google is headquartered in Silicon Valley with offices throughout the Americas, Europe and Asia. For more information, visit http://www.google.com.ph/.
Google, Google Maps and Google Map Maker are registered trademarks of Google Inc. All other company and product names may be trademarks of the respective companies with which they are associated.