TeamAsia bags Quill for employee engagement program
Creativity is at the heart of all integrated marketing communications firms. From witty one liners to compelling campaigns, that stroke of genius must always be present. This mantra is the driving force behind IMC agency TeamAsia.
That's why when it came time for the agency to design an employee engagement program, the ingenious minds could not disappoint. Called Pop Up Wednesdays, borrowed from the idea of pop up stores which, as the name implies, pops in and out of nowhere to bring creative concepts and coveted products to the hands of appreciative consumers. Much like the inspiration behind its name, every Pop Up Wednesday is different. One month could be a "dress up your workspace in Disney" for the Halloween party; Another might be transforming the office for the afternoon into a zen-like spa experience complete with soothing sounds, dimmed lights, a cup of hot tea and a serving of pastries; Yet another could take the form of playdates at a local orphanage.
All these are done to break the seeming monotony of everyday office work and introduce a novel way to build company culture. The activity, which often happens during the last Wednesday of the month is an avenue where they can get together and solidify working relationships. It provides a fun and safe environment where employees can unleash their creativity and relax at the same time.
The novelty of this idea has recently been recognized by the prestigious Philippine Quill Awards. The program bagged a Quill Award of Merit last March at the awarding ceremonies held at the Crowne Plaza Galleria in Ortigas.
"This award is for the team," TeamAsia Managing Director Bea Lim said. "It validates our strong commitment to keep bringing us closer in the most innovative and creative manner — just like how we deliver brand connections to our clients."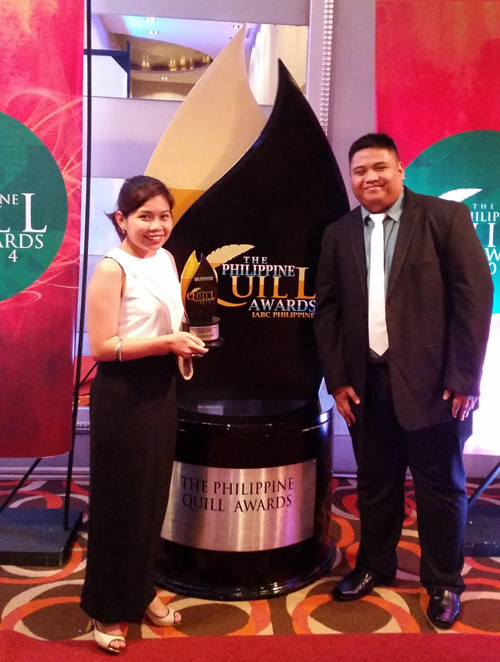 TeamAsia Art Director Anna Paras and Associate Editor Immanuel Pastolero accepted the Quill Award of Merit for Pop Up Wednesday in an awarding ceremony held March 9 at the Crowne Plaza Galleria in Ortigas.
About TeamAsia
TeamAsia is an award-winning integrated marketing communication firm. Our biggest interest is taking brands to the next level experience of visibility. We do this by exploring innovation to its fullest potential through our five core services: integrated marketing, experience, creative, content and digital. In our 22 years in the industry, TeamAsia has been recognized by several organizations such as the Mobile Web Awards, the Philippine Quill Awards and the Web Awards for our excellence.