TeamAsia strengthens its commitment to innovation in its 24th anniversary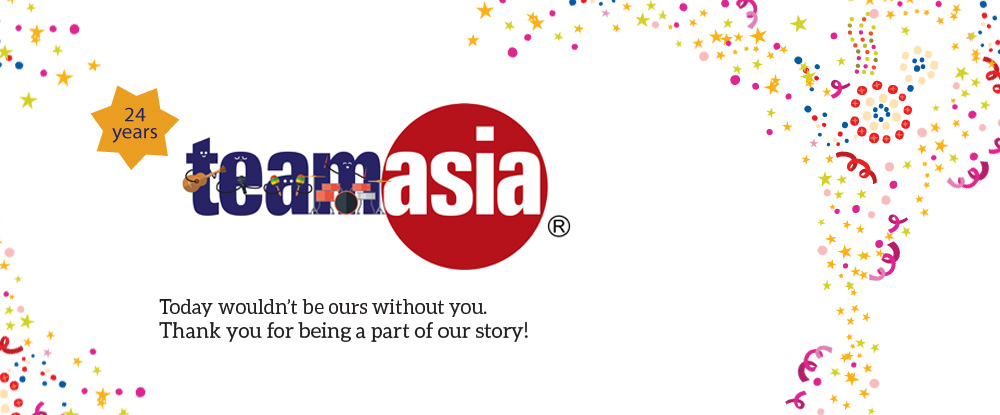 For TeamAsia's 24th anniversary, the integrated marketing communication agency strengthens its commitment to finding disruptive and groundbreaking concepts, and harnessing them for their ever-expanding client base. And if one was to look at the company's history, it proves to be going strong.
"We're in the business of creating and sustaining visibility," says Bea Lim, the company's managing director. "We have always run with innovative ideas before they've even become trends. It's about feeling the pulse of what's happening around us and finding ways to bring our clients to the next level experience with these insights."
From its beginnings as a public relations and events management agency, it has branched out to a unified approach combining digital, creatives, and integrated marketing communications. And through the years, TeamAsia has innovated concepts that would later become the industry standard.
In the early '90s, the company brought in prominent public speakers Michael Porter, Peter Drucker, Gary Hamel, Deepak Chopra, Tom Hopkins, and Robert Kiyosaki to speak at industry events, years before bringing personalities to the Philippines was a trend.
A trade exhibit for malls nationwide, called the PC Weekend Madness, was a concept never done before and conceptualized for the world's largest and most valued semiconductor chip giant, Intel, to establish their presence in the Philippines. Clients like Canon and SAP software solutions loved the idea so much that they requested similar launches and PR campaigns for the coming years.
TeamAsia helped theInformation Technology and Business Process Association of the Philippines (IBPAP) and Google set up its offices in the Philippines. Today, the agency represents Google for public relations in the country. Last year, TeamAsia launched Madrid Fusion Manila to the country, bringing in the world's most important chefs from around the world. Earlier this year, the agency launched the Dusit Hospitality Management College, Dusit International's individual collaboration with Ecole hôtelière de Lausanne and Institut Paul Bocuse, two of the most respected hospitality and culinary schools in the world.
TeamAsia was one of the first companies in the Philippines to have a website. The company has parlayed its early adoption and mastery of the digital space into creating websites, microsites, and apps for clients in the Philippines and abroad. Today, TeamAsia also creates winning digital PR strategies for brands like Madrid Fusion Manila, Caltex Philippines, and Pepsi-Cola Products Philippines, Inc.
Another agency innovation is the International IT-BPM Summit (IIS), the largest gathering of information technology and business process management (IT-BPM) professionals in the region. TeamAsia has executed all eight summits, in partnership with IBPAP, since 2008.
For IIS, TeamAsia developed the Audience Response System, which allows IIS, and other events like APEC's  Public Private Dialogue on Women and the Economy (PPDWE) and the High Level Dialogue on Inclusive Business (HLDIB) in 2015, to be more interactive for the crowd through various technologies like tweet-casting, text-in questions, and a mobile app where the audience can engage in discussions.
"TeamAsia is a family of storytellers, and we're always looking for better ways to tell our story," shares Lim. "Today, it's not just about pushing the message out or pulling people in, it's a marriage of both."
Though TeamAsia is a company that thrives because of its adaptability to new breakthroughs in the field of IMC, its core is still rooted in its tradition as a family business. TeamAsia was founded in 1992 by husband-and-wife duo Michael Alan Hamlin and Monette Iturralde-Hamlin, and together they built their business in a garage to become one of the leading independent IMC agencies in the country.  When Michael, fondly called Mike, passed away in 2013, their daughter Bea Lim took his place as the company's managing director, inspiring the 60 employees that she calls her extended family.
"It has never, and will never be, just a company," reminds Lim during the company's 24th anniversary celebration. "It will always be a family."
"I never thought that it would be like this," adds Iturralde-Hamlin, the company's president. "Back then, it was just me and Mike. Now look at all of us here together, we've accomplished so much in the last 24 years. Together, I know that we can continue to accomplish marvelous things, things that people have never seen before. I'm excited for the prospect of our 25th year and more years ahead of us!"