The future is female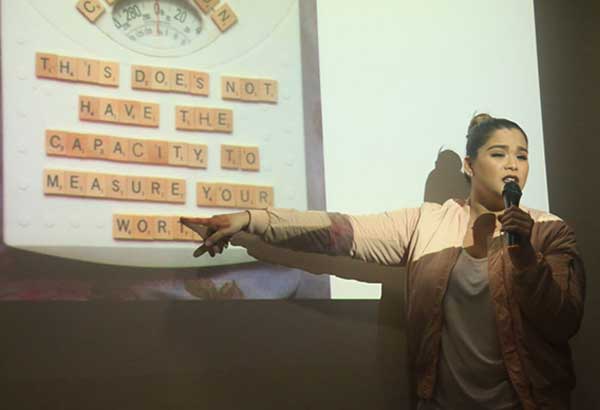 Walk the talk: Model Kat Gumabao shared some advice at the launch of NOW.
MANILA, Philippines – The modern workplace environment is all about working hard, playing hard and smashing gender roles along the way. Last June 28, business services firm Concentrix did exactly that, launching their Network of Women (NOW) initiative through a symposium. It aimed to promote gender equality and, of course, the future of women in the workforce. The Better Story Project's very own Isa Garcia and plus size model/body positivity advocate Kat Gumabao both led the talk. It was a night of breaking stereotypes, rekindling sisterhood, and empowering the self.
A few local corporate entities are trying to tackle the long-term, underlying issue of breaking the glass ceiling in the workplace. Concentrix decided that more global companies — like themselves — should work to put gender equality on the Philippine map. With a workforce that's 52 to 54 percent female, it's just about right. "We believe in diversity. One of our values is that we are all one Concentrix and we all contribute. And that doesn't just mean men, that doesn't just mean women, it means everybody who's here is a part of Concentrix," explained Elek Toth, country leader and VP for Philippine Operations.
"Knowing we strive to have a good environment, we still work to create that outcome. This is one of the steps to that direction — to go ahead and talk more about it, shed some light to it, and put some effort towards achieving more gender equality," he added.
Despite a storm, guests and employees flocked to the conference hall to listen to the big "why" behind gender inequality. The first answer came from Isa Garcia who said it was genetic destiny. "We are disenfranchised as a gender," she said, though this only emphasizes the need to build women up. Garcia bolstered the feminist phrase, "I am woman, hear me roar," with statistics — such as the gender wage gap, stereotypes of women that splinter sisterhood, and how important mentorships are to young women — to prove how important it really is to roar in today's world.
As a teacher herself, she explained how mentorship and sisterhood matter, sharing the story of her MINT student Elle Sebastian, a timid theater arts student who blew Garcia away with her vocal chops — but only after she was accidentally overheard singing. After Garcia's talk, she brought Sebastian onstage to perform an original song called Bahaghari. Accompanied by guitarist Helen Balaoing, she sang about the rainbow after life's rain — an image fitting for the wet weather outside the conference room.
Plus-size model and body positivity advocate Kat Gumabao followed with infectious energy that lightened the room, despite a serious topic: loving oneself is never an easy task, but her talk addressed why it's so important. "No one can make you inferior without your consent," she declared. She also talked about breaking stereotypes, building up your self-esteem and strengthening your faith in God during your "self-love journey." All of this coming from her unique perspective as a plus-size model living in an image-conscious country.
What the launch of NOW by Concentrix symposium proved is that women are so much more than they might think they're worth. It's time that we all become informed and empowered. The erasure of gender bias should be the aim of every modern workplace. "You can change the world and you must," Garcia concluded in her talk. Through such mentorship programs, maybe more young women will listen to that little "change the world" voice within.
Source: Philippine Star