Unifying Communications By John Mark V. Tuazon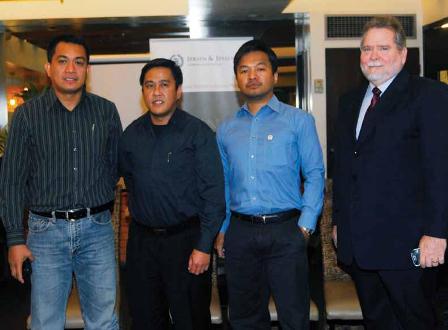 Information serves as the fundamental element in any organization, serving as the primary driver of growth for the company. Making that information flow—efficiently and cost-effectively—is a challenge every enterprise has to deal with in order to attain targeted goals.
Over the years, information channels have sprung up like mushrooms, creating varied and In partnership with Unified Communications segregated portals by which users from inside and outside the company can access needed data. The traditional desk phones have given birth to mobile phones, while old-fashioned fax machines now have PCs as counterparts. Information exchange has, therefore, become more sophisticated and complicated than ever, giving birth to the need to consolidate everything under a single platform.
For Computerworld Philippines' CIO Roundtable for this month, we gathered three IT executives and threshed out the issues and benefits they have derived from implementing Unified Communications solutions in their respective industries.
While not having implemented UC just yet, Glenn Ganuelas, head of infrastructure, corporate information management of Jollibee Foods Corporation, sees UC as an effective solution to quickly and effectively transfer messages from the corporate office down to their store branches. "We run a lot of projects that affect or have an impact on Jollibee's branch network, and one of our challenges really is getting messages across to them," Ganuelas says. "The traditional way of cascading this down to them was to bring everybody into a single site, and then conduct a classroom-type of training. We want to move away from that, and shift into digital training."
Jumping on to the UC bandwagon, however, isn't as simple as deploying the technology solution. "Prior to implementing any UC solution, you need to align it to your business process. You need to adopt it with the culture of how people work, and how you are going to embed UC to the business process that they have gotten used to," relates Joey Abel, IT manager, APC by Schneider Electric.
Having all communication channels under one portal, however, is like putting all your eggs in one basket—one of them goes down, and everything else is compromised. "It's more on securing your deployment of a collaborative solution, because you will be coming with a single contact. Because if you are not using separate modes of communications, there will be a single point of attack. So you have to make sure that when you implement UC, everything is intact," shares Edwin Fallorina, director of IT and head of systems, e-Scribir, Inc.
The roundtable discussion for July was moderated by Michael Alan Hamlin, managing director of Team Asia and a columnist for this publication. Jebsen & Jessen and Avaya Philippines, sponsors of the event, were likewise present to offer valuable insights and business solutions to the attendees.
Excerpts of the discussion follow:
Mike Hamlin (Moderator): I want to ask the practitioners: how would you describe Unified Communications?
Glenn Ganuelas: I've heard about Unified Communications three or four times ago in my previous company. Where I work now, Jollibee, UC is the current buzzword in the organization. The presentation covered most of it but the emphasis was really on the voice portion. I'm lucky enough to have undergone a presentation recently by Microsoft, where they shared their view of Unified Communications. There are some commonalities, like convergence, instant messaging, voice and audio conferencing. The keyword there was collaboration, which is the sharing of files and document flows. That's exactly what we're looking for in our organization. We run a lot of projects that affect or have an impact on Jollibee's branch network, and one of our challenges really is getting messages across to them in terms of how we want them to perform their day-to-day routines. The traditional way of cascading this down to them was to bring everybody into a single site, and then conduct a classroom-type of training. We want to move away from that, and shift into digital training, wherein we just send the material directly over the network and have a digital screen and communicate with them from the central site. When we implement a new product, we have to bring people in and explain to them how it should be served, how it should be presented, and the like. But in our mind, it would be better if we can send them the video and explain via digital format, so they can just refer back to it in the future. That is one of the things we are looking at. We have a lot of projects going on, and we have presence around the world as well as in regional areas of the Philippines, so normally we would bring people in to have discussions on projects. We have many documents where people make changes, and the problem is, they are not looking at the same file. If we have discussions, we have to bring them to Manila or wherever the project manager dictates, and we spend time travelling from the US or wherever to do a simple explanation.
Hamlin: That actually covers one of the things that I want to discuss as well, which is what we are doing in the Philippine contact centers in terms of the technologies and tools, and how prevalent they are now. There are so many things coming to the stream now. I don't know if you've heard of "Yammer," which is an internal collaboration tool that works a lot like Twitter, but it's specific to a domain. You have Google Apps and Google Wave for collaboration. How about you, Mr. Abel, what is your perspective on Unified Communications?
Joey Abel: I heard of Unified Communications about six years ago, when I attended a similar session. It's good that many vendors nowadays are into UC, and the importance of UC to the business is like asking the importance of information to the organization. We know that the availability of information makes the business work, and in most companies, if not all companies, we have different ways of communicating that information. We have emails, we have telephones. It's been with us for quite a while but I think the importance of making the communications systems unified is in cutting the processing time, so that the business would be more effective and efficient, and so that the knowledge worker would be available in real time. Unified communications is basically taking the current setup in one's company and being able to collaborate on information through certain communication channels. Since I heard it five to six years ago, I think it's still the same UC technology. I think it is maturing. And since it stayed after six years, I think it's here to stay for good.
Hamlin: Mr. Fallorina, you're running your own business, and you're also consulting for government as well as private sector clients. Are you seeing the demand or the maturing of the technology and do you think it's relevant for what we're doing in the Philippines?
Edwin Fallorina: Actually, I represent the BPO sector, and the components of UC are basically drilled down to voice, data, and video. They have been in existence for more than 10 years, and it's just that the buzzword changed. Before, we are using convergence, and then six years ago, when UC was initially introduced, it was called collaboration of technologies using complex components such as chat, e-mail, videoconferencing, teleconferencing, and SMS. So if Mr. Abel is correct, it was introduced six years ago, but it was not very popular. But in the BPO sector, we've been using UC components for the last seven years now. My company deals with the US and several European countries. We are dealing with Hong Kong, Korea, Singapore, and we've actually seen the growth of UC since we started using it seven years ago. Before, we were just using VoIP, broad voice, or whatever technology is available in the market. Now, we are implementing our own UC setup in our facility. Talking to our clients abroad, it has become a necessity for us because we need to cut costs especially during last year's recession. To be able to survive during the crisis, we identified the processes which are not necessary to our business, and implemented some tweaks. The technologies we are using are a combination of Skype, WebX, NetMeeting, and all of them are components of UC. When you say UC, you are using a single sign-on. Before, we are using several sign-on in different technologies. To be able to do a telecon, we needed to go Skype's website, where we need to sign in if we want to do teleconferencing. If we want to go into an instant messaging chatroom, we have to use another sign-on. Now with UC, all you have to do is do a single sign-on in a portal and everything can be done within the portal. I think there's big demand for UC here in our region since the BPO industry is gearing up for a higher level, unlike last year during the crisis.
Hamlin: I want to talk a little bit about Philippine contact centers and the applicability of these technologies outside the obvious BPO industry, which clearly needs these tools because it's for interfacing with very sophisticated markets around the world. Mr. Ganuelas, since you're in an industry outside the BPO sector, do you really see the relevance of UC and mobile technologies for you, aside from the obvious instructional and communication initiatives?
Ganuelas: In the quick service restaurant industry, there isn't going to be much prospects on mobile technology requirements because the focus really is on store operations, selling over-the-counter. The need would be more for the executives who travel a lot, for they would need connectivity to stay in touch with how the sales are performing, how the stores are doing, approvals for requisitions and such. But in terms of being like the sales force-type of industry wherein you have a lot of people moving around and would rather have them calling their client to get to know them, we don't need that. The need would be very different from a sales organization. However, the need is still there in terms of visibility and reacting to problems that arise from the operations of the business. If they don't have that, they cannot react. And if they don't react properly, we tend to lose customers. So if you have a store, and they run out of chickens, for example, your crew would get swamped with people ordering chicken. So we had to be alert and react to it immediately, otherwise we would lose customers.
Hamlin: How can a regular user or a regular customer benefit from UC? How many of you experience calling in a call center that will put you in hold then will forward you into another, or worse, will give you another number to call and try again until you lose your patience? That's basically the challenge of Unified Communications.
Ganueles: How can it be migrated to the consumer? Let's take Facebook as an example. What does Facebook do? It allows us to chat. You can actually send messages on Facebook. So you already satisfied two items there—if you happen to make yourself visible online, there is presence, and with video coming soon, what do you have? Voice. It's there right now, so if you want to build something like that, you know it's already possible. There are a lot of SMBs in the country that would need this kind of communications with their clientele. I worked in a small company and guess what? We communicated with our clients through Yahoo! Messenger, and if they want a conference call, we use Skype. I can send a presentation and we can do it through Skype. If you have a complete solution like that, you could address the needs of a lot of small companies.
Hamlin: So there are amazing number of tools that are available for businesses, and I guess we could actually say that social network is Software-as-a-Service. We talked about training, and I can see how you do that in YouTube and SlideShare, where you can send it out to remote sites for collaboration. As these tools evolve and mature, it leaves us asking the question, since there are potential dangers to using them, should your people be on social networks? To what extend should they be using these tools in the office?
Fallorina: Actually, it's more on securing your deployment of a collaborative solution, because you will be coming with a single contact. I'm talking about the security aspect of using UC, because if you are using separate modes of communications, there will be a single point of attack. So we have to make sure that when we implement UC, everything is intact. In my company, though we are a bit tight in our organization, we were attacked by an IP address from China. In just a matter of an hour, before I noticed it, I've already spend US$20,000 to fend the attacker off. They were using a particular port to get into our system. So we had to make sure that this particular port is closed and should be monitored regularly, otherwise UC will be compromised.
Mike Hamlin: So that's the trade off—single portal which is convenient, fast and efficient but also vulnerable in many ways.
Abel: Prior to implementing any UC solution, you need to align it to your business process. You need to adopt it with the culture of how people work, and how you are going to embed UC to the business process that they have gotten used to. So when you say UC, there are instant messaging, e-mails, calls, and unifying means simply integrating them to have a single interface, and subsequently defying the limitations of the medium. You need to identify what basically are the challenges that you hope to address in the business. In my experience five years ago, we tried to implement unified messaging wherein you can receive and send a fax message using a laptop or a desktop PC. You can also access your voicemail through your PC, set a video call, and a voice call. But I can say that I did not really get the full benefit of the implementation. Why? Because during that time, I was merely hungry for the technology. I wanted to be the first to implement it, but we did not really align the technology with the business process. So, some are using it, and some are not. It's not just grabbing the technology, but asking yourself, "do you need it?" Why do you need it? At the end of the day you will see how it is working for your business.
Hamlin: I guess that support from the top would also be necessary.
Ganuelas: There is an inherent risk in opening access to Facebook. We are trying to control it but we did not block it, because we are trying to gauge how popular the site is to people who have access to it. There is that argument that other people in the same industry can't do without it because it's become a part of their social structure of communication. Still, we are trying to find out the risks in blocking others, especially when they start sharing company information on their Facebook accounts. And that is the taxing part—how do you secure people from sending a file that they shouldn't be sending? Those are the trade-offs that we are dealing with, between the benefits and the security of company resources.
Hamlin: How important is UC as a customer relationship tool for organizations? Because by communicating with customers, it goes beyond being visible to being accessible by your customers.
Fallorina: As I've mentioned earlier, in the BPO industry, we communicate with people around the world whom we haven't met face-toface. The primary requirement of our clients is that we should always be online, and UC addresses that issue. By implementing UC, we can always be available and we can have a movable workforce. Hamlin: Before, there was a belief that if you're not Google, Yahoo!, or MSN, you don't exist, you're invisible. Now, we seem to be making a shift to social networks as part of UC as well. Mr. Abel, in your work, do you see that benefit of accessibility and visibility?
Abel: Definitely. Schneider Electric is a 120,000-employee company, so communication is really important. It's important to make information available anytime, anywhere. However, extending it to our customers is a challenge that we are working on right now. Here in the Philippines, we have several business units—we have a call center providing support for North America and the Asia Pacific, we have the largest manufacturing site here, we have a distribution center delivering to the customers, and we have sales offices in Davao, Cebu, and Makati. So basically, the business itself is very diverse, and if we are going to the extent of how we can benefit from UC, yes, definitely there is. But it's still something ongoing, and considered to be a challenge for now, because we are still working on it. Basically, the customer care center is the first to adopt UC. When customers try to reach the customer care center, it starts with voice. And then, the agent has an option to direct the customer to the technical support officer offsite, and that's how we are trying to make UC work. Lastly, there is also an option for a video to be sent to the customer. Next, we are trying to make UC work for manufacturing, because it is a tedious process and needs information to be available anytime.
Computerworld: Can you give exact details of your ROI when using UC?
Ganuelas: Funny you should ask, because I'm right smack in the middle of the business stage of UC. I get to take into consideration the travel time. For example, the incentives in not having to fly people over from a certain store and doing the training. The telephone calls can be covered by conference chat or instant messaging. I can't give you exact numbers, because that is how we are approaching it. We are looking at it on a practical standpoint—for example, you can't have an executive sitting on an airport for three to four hours, because that is costing you. I can't give you hard numbers but offhand, we think it's going to improve performance and productivity, especially through collaboration.
Fallorina: Before, we used to send our people abroad for training, or we hire people from abroad to go to the Philippines and train our people. The fact that we have to shoulder the cost of accommodations, travel, and everything is already very costly. In our industry, there is at least 75% reduction on training costs when we deployed collaboration via the Web. So, it's 75% reduction versus airfares, accommodations, and allowances, so I think the question should be on what is our TCO (total cost of ownership) when deploying UC. I would say that it is very low, because your ROI can be achieved in a short period of time. This is a good technology that everybody should adopt.
Abel: It's a bit insane to compute for the ROI of UC because there are so many benefits. But the direct and the easiest is the cost of communication. I think another benefit of UC, which is very hard to compute, is the amount of lost businesses. How are you going to compute if you are not able to provide quotation for a customer of a certain project? If you are going to compute for it, it's probably bigger in the actual computation. Therefore, the direct and easiest computation is the cost of your overall communications.
Read the original article here.