Bigger dreams for brighter futures
This holiday season, amid the hustle and bustle of the Christmas rush, we are once again reminded of the difficulties many of our kababayans face. A great number of Pinoys do not have enough food to put on their table and are desperately trying to make ends meet. Sometimes, this comes at a very high cost. Young children who should be in school are forced by circumstance to help their parents provide for the entire family instead of going to school.
For those who are able to go to school, many of them don't have the resources to buy school supplies.
This problem is exactly what the IT-Business Process Association of the Philippines (IBPAP) and the integrated marketing communications agency TeamAsia aims to alleviate. The Christmas campaign, simply called "My Dream in a Shoebox," aims to give the gift of a brighter future to school-aged kids nationwide.
This is done through the distribution of shoeboxes filled with school supplies to needy children. This is done in the hope, that with these gifts of pencils and crayons, they can draw a brighter tomorrow for them and their families. This will also enable them to build the path towards a future where they can make a difference in other people's lives.
Starting with 200 shoeboxes in 2009 for a single beneficiary organization, the campaign has grown to giving out 13,675 shoeboxes last year to over 15 beneficiary organizations scattered across Luzon, Visayas and Mindanao.
Now on its sixth year, the campaign continues to be a beloved Christmas tradition with increasingly bigger goals and a wider reach. With the help of the Armed Forces of the Philippines, Comfac Global Group, and the National ICT Confederation of the Philippines (NICP), My Dream in a Shoebox aims to provide 15,000 children with their own shoebox and raise funds of Php 1.5-million for the Payatas Orione Foundation Inc. (PAOFI).
The cash donations will help build PAOFI's 2nd floor multi-purpose hall in Payatas, Quezon City where they hold trainings and value formation activities for the five public schools in the area: Payatas A Elementary School, Payatas B Elementary School, Payatas C Elementary School, Commonwealth Elementary School and Batasan Elementary School.
"The best gift to give this season is the gift of hope for a better tomorrow," said TeamAsia founder and president, Monette Iturralde-Hamlin. "We have a social responsibility to empower the children of this nation with better control of their future."
Everyone is welcome to donate shoeboxes. Each shoebox enables a child to pursue a life of greater possibilities. Make yours special by wrapping the lid and box with colorful recycled paper or Christmas wrappers. Place notebooks, pad paper, pens, pencils, eraser, box of crayons, ruler, and bottle of glue inside. For safety and security, please keep the boxes open.
Drop off points are:
Comfac Global Group Warehouse
Comfac Technology Center
536 Calbayog corner Esteban Streets, Highway Hills,
Mandaluyong City
Monday – Saturday; 8AM – 5PM
Fernando P. Fernandez
Email: fpfernandez@comfacgroup.com
TeamAsia Office
Unit 308, Building B, The Plaz@,
Northgate Cyberzone, Filinvest Corporate City
Alabang, Muntinlupa City 1783
Monday – Friday; 10AM – 6PM
Katrina Pimentel
Tel. No.: +63 2 757 3500 local 306
Fax No.: +63 2 757 3510
E-mail: kepimentel@teamasia.com
Find out how you can help by visiting www.teamasia.com/shoeboxcampaign. Be a fan on Facebook (http://www.facebook.com/mydreaminashoebox) or follow us on Instagram (@mydreaminashoebox) and Twitter (@shoeboxcampaign) for quick updates on the campaign.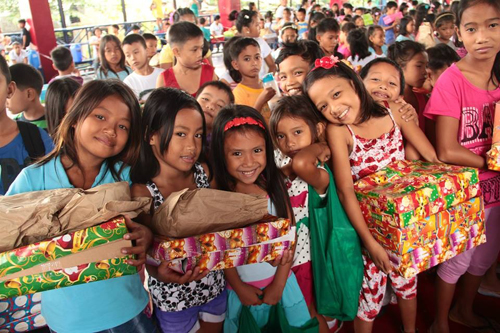 My Dream in a Shoebox beneficiaries.
About TeamAsia
TeamAsia is an award-winning integrated marketing communication firm. Our biggest interest is taking brands to the next level experience of visibility. We do this by exploring innovation to its fullest potential through our five core services: integrated marketing, experience, creative, content and digital. In our 22 years in the industry, TeamAsia has been recognized by several organizations such as the Mobile Web Awards, the Philippine Quill Awards and the Web Awards for our excellence.
About the Information Technology and Business Process Association of the Philippines (IBPAP)
The Information Technology and Business Process Association of the Philippines (IBPAP) is the enabling association for the information technology and business process management (IT-BPM) industry in the Philippines. IBPAP serves as the one-stop information and advocacy gateway for the industry. With over 300 industry and support-industry members, including five associations—the Animation Council of the Philippines, Inc., Contact Center Association of the Philippines, Game Developers Association of the Philippines, Healthcare Information Management Outsourcing Association of the Philippines, and Philippine Software Industry Association—IBPAP plays a pivotal role in sustaining rapid growth of the IT-BPM industry by working to ensure an enduring supply of high-quality labor, supporting service innovation, and providing country visibility.
IBPAP assists investors in setting up operations easily and quickly in the Philippines. Relevant research, introductions to key government and industry officials, and a series of briefings at each step of the investment process ensure a seamless development process. On-going support is provided through a wide variety of initiatives, including programs for HR development, business development, and on-going knowledge sharing and networking opportunities.